Tesco UK managing director Chris Bush has vowed to rekindle the British consumer's affection for the grocer by making it the supermarket of choice rather than a default option.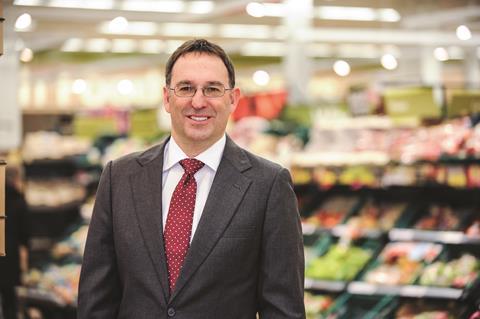 Speaking exclusively to Retail Week in his first interview since taking the UK helm, Bush said: "We've got to turn Tesco from a brand that is used to a brand that is chosen."
Bush acknowledged there is a "good chance" that many customers shop at Tesco because it is ubiquitous and therefore convenient. He observed: "That's great, but we also want customers to choose us."
He said: "Customers love Tesco by what they experience in a shop. When they connect with the brand either in stores or online they have to find it uplifting, rewarding and have to value it."
Bush, speaking as Tesco revealed a group full-year trading profit fall of 13% to £3.45bn, said: "We have got to make sure the shopping trip is at its very best with the right product, at the right price, in the right environment, supported by brilliant staff.
"And when you get to that point, and we're making great progress, then you really start to enjoy shopping in Tesco," he said.
Bush said the grocer's "journey" will "never finish", but that the six-point plan initiated by group chief executive Philip Clarke last year to 'Build a Better Tesco' in the UK was already having an impact.
UK like-for-like sales for the year were down 0.4% but in the fourth quarter increased 0.5%.
The six-point plan includes Service & Staff; Stores & Formats; Price & Value; Range & Quality; Brand & Marketing; and Clicks & Bricks.
Bush said progress has been made on each of the six points.
He said Tesco's Price Promise, launched in March, had been well received and that in the majority of cases Tesco was cheapest. "We've always been confident on price and this now allows us to concentrate on other things," he said.
Bush said he didn't know whether the initiative would need to change following rival Sainsbury's complaint to the Advertising Standards Authority, but maintained: "We're very confident of our position. You don't go into these things with your eyes shut."
As part of plans to revamp the store environment, Tesco has invested in businesses such as Giraffe and Harris + Hoole. The first in-store Giraffe cafe will be installed in Tesco's Watford shop in the summer.
Food performed strongly in the UK and Bush said Tesco is "now in a position to tackle some of the things in general merchandise".
Tesco's UK online grocery arm reported sales up 12.8% to £2.3bn in the year to February 23, but its general merchandise online business, Tesco Direct, is not yet profitable.
Clarke said while clothing is "performing fantastically well" - F&F sales exceeded £1bn in the year - general merchandise "didn't work so well". Like-for-likes in the division declined 5%.
The grocer confirmed its US exit with a write-down of £1.2bn, and revealed a UK property write-down of £804m after scrapping plans to develop more than 100 sites.
The decision comes after Clarke called an end to the space race last year to focus on becoming a global dotcom player.
Tesco in numbers
Full-year figures to February 23
Group trading profit down 13% to £3.45bn
Statutory profit before tax (includes write-downs) down 51.1% to £1.96bn
Group sales up 1.3% to £72.4bn
UK group trading profit down 8.3% to £2.27bn
UK sales up 1.8% to £48.21bn