Tesco takes full ownership of Harris + Hoole coffee shop chain
Grocer has backed the artisan-style chain since it launched in 2012
It previously held a "non-controlling" stake in the business worth about 49%
Tesco has taken full ownership of its coffee shop business Harris + Hoole three years after its launch, Retail Week can reveal.
Tesco, which previously held a "non-controlling" stake in the chain believed to total 49%, has agreed to acquire the remainder of the business for an undisclosed sum.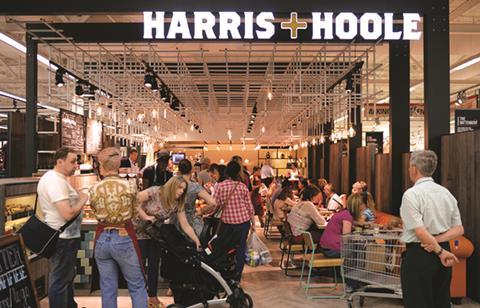 The supermarket giant backed the artisan-style coffee shops alongside founders Nick, Andrew and Laura Tolley when it launched in 2012.
But Retail Week revealed last July that the siblings were stepping down from their respective roles as chief executive, coffee director and chief design officer to concentrate on expanding their other business, Taylor St Baristas.
That fuelled speculation that Tesco was seeking to sell off its stake as part of a wide-ranging portfolio review that was being undertaken by boss Dave Lewis at the time.
Its Korean Homeplus chain and Blinkbox streaming service were both sold off as the grocer disposed of non-core businesses to focus on its core UK arm.
But Tesco has opted to take up an option it had in its original agreement with the Tolleys, which allowed it to acquire full ownership of the business after the first three years.
A Tesco spokesman said: "We can confirm we have acquired full ownership of Harris + Hoole.
"We have worked successfully with Harris + Hoole since investing in the business three years ago and will continue to partner with the management board in the future."
Losses
Harris + Hoole's management board is led by head of Tesco Family Dining, Adam Fowle, who also oversees the Giraffe restaurant business.
The Harris + Hoole board also includes finance director Richard Harpham and chief operations officer Sam Wignell.
The Tesco spokesman added that their roles, along with around 500 other Harris + Hoole staff, will be unaffected by the acquisition.
Harris + Hoole's pre-tax losses almost doubled to £25.6m in the year ending March 1 2015 after it invested in expanding its portfolio.
It opened 22 shops during the period taking its year-end total to 45, according to documents filed at Companies House. The store opening programme drove sales up to £12.8m from £6.6m the previous year.
The filing revealed that Harris + Hoole would require a further £6m of funding from Tesco until the end of 2017 in order to meet its financial targets.