Tesco has begun selling own-label products under its US chain Fresh & Easy's name in UK stores.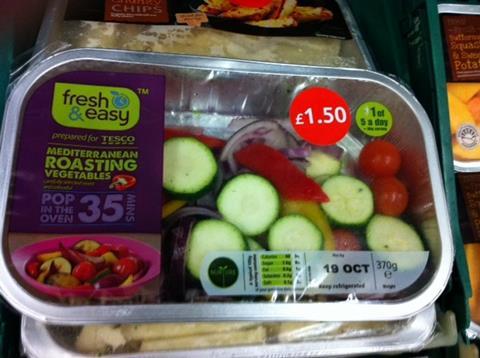 The grocer is stocking products carrying the Fresh & Easy branding in its fresh produce department including prepared vegetables.
A Tesco spokeswoman said the grocer is likely to roll out the products, developed in the UK under the specifications and branding developed by Fresh & Easy in the US, within the fresh produce department. The products are not sold in Fresh & Easy stores in the US.
Kantar Retail insights director Bryan Roberts told Retail Week: "The branding is attractive and conveys some winning attributes, but Fresh & Easy has no brand equity in the UK and there are no synergies in terms of sourcing, packaging or marketing.
"It is a nice, attractive design but Tesco has a number of sub-brands in fresh already."
The Tesco spokeswoman said: "This new range is just one of the many innovations we're already put on the shelves for customers this year, following the re-launch of Everyday Value and significant quality upgrades to our ready meals.
"Fresh & Easy is built around great products and utilises the best of our product expertise. The products are free from additives, preservatives, hormones and trans-fats, and customer satisfaction scores for them in the US are among the highest in the group.
"With the launch of this new ready-to-cook range we are bringing a bit of all of that knowledge and experience back to our home market, to share with the millions of customers who shop with us in the UK every week."
Tesco is leveraging its international sourcing links to supply its products around the globe. Earlier this year, it began supplying its businesses in Eastern Europe with a number of its venture brand products.
The Fresh & Easy chain has yet to make a profit. Tesco said earlier this month that the US business made a £74m loss in the first half to August 25. Tesco boss Philip Clarke said it has scaled back expansion plans to concentrate on making the existing portfolio profitable.
UBS analyst Mike Tattersall today called for Tesco to exit the US. "We argue that Tesco would benefit from exiting the US and believe investors would warmly welcome such a move," he said in a note.
Tattersall said Tesco "could feasibly buy back almost £8bn of equity" to pay back to investors between now and February 2018.