Grocery giant Tesco is beginning to feel the benefits of its recovery programme despite a further sales fall in the first quarter.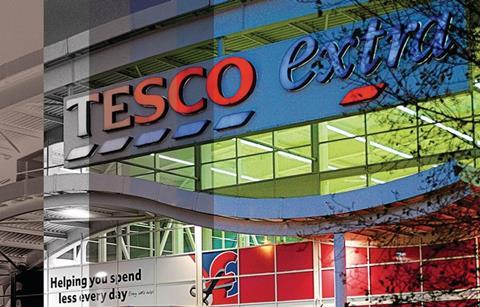 UK like-for-likes down 1.3% but sales volumes up 1.4%
Shoppers buying more from Tesco, more often
Update beats City expectations of a 2% fall
Tesco reported like-for-like sales down 1.3% in its core UK market over the period.
That was an improvement on the 4% fall in the comparable period last year and better than the 1.7% in the preceding quarter.
However, chief executive Dave Lewis highlighted improved volumes and transaction numbers in particular as evidence that his turnaround strategy is beginning to work.
"We are fixing the fundamentals of shopping to win back customers "

Dave Lewis, Tesco
Like-for-like volumes rose 1.4% in the UK in the period to May 30, when transactions increased 1.3%. Tesco attracted 180,000 more customers during the quarter.
Lewis said: "We set out to serve our customers a little better every day and the improvements we are making are starting to have an effect.
"We are fixing the fundamentals of shopping to win back customers and relying less on short-term couponing.
"Customers are experiencing better service, better availability and lower, more stable prices and are buying more things, more often, at Tesco."
Price reductions
Following a round of price cuts on branded products in January, Tesco reduced the prices of another 300 over the quarter.
As it seeks to hone and simplify its offer it has so far conducted range reviews of 15 categories and scaled back the number of lines by as much as 20%.
Such action follows the rise of limited assortment discounters such as Aldi and Lidl, which have wooed shoppers with straightforward ranges.
Tesco aims to reduce unnecessary duplication of products while still offering customers much greater choice than the discounters.
Lewis said: "These improvements have come during the restructuring of our office and store management teams, which testifies to the focus, skill and commitment of colleagues across the business.
"Whilst the market is still challenging and volatility is likely to remain a feature of short-term performance, these first-quarter results represent another step in the right direction."
Tesco's total group sales fell 1% at actual rates during the quarter and 0.5% at constant rates.