The number of single-use plastic bags used by Tesco customers has plummeted almost 80% since the 5p plastic bag levy was introduced.
The supermarket giant has revealed the number of bags used has been slashed 78%, while the number of online customers opting for a bagless delivery option has increased by almost 50%.
Tesco has revealed the figures two months after the Government brought in the compulsory charge for businesses that employ the equivalent of 250 or more full-time employees and sell or deliver goods in England.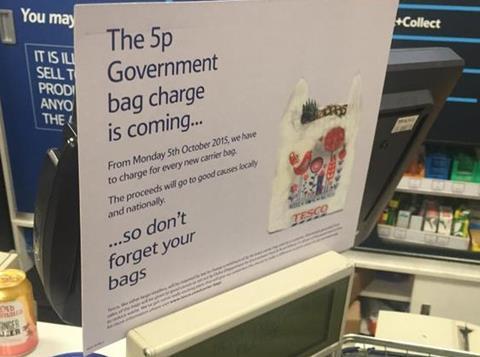 The ruling Conservative party introduced the new legislation aimed at driving down the number of bags taken from shops to reduce non-recyclable litter and help the environment.
Tesco, which gave out free bags for life in the week before the 5p charge came in, said the drop in bag use by its customers is almost 10% higher than it predicted prior to the levy being introduced.
'Huge impact'
The supermarket giant's group communications director Rebecca Shelley said: "We knew the Government's bag charge would encourage our customers to use fewer plastic bags and it's clearly had a huge impact.
"We're also working with our customers to make sure the millions of pounds that will be raised from the bag charge go towards making a real difference for our local communities."
Tesco will donate proceeds from the levy to a host of causes and has called on charities and community groups across the UK to apply for grants, which will range in value from £8,000 to £12,000.
Environment minister Rory Stewart said: "I'm really delighted that the 5p plastic bag charge is starting to have a real impact and is raising thousands for good causes.
"Cutting the number of plastic bags we use is a small but vital step in reducing plastic waste. It will not only tidy up our towns and countryside, it will also help protect our precious beaches and sea life."