Grocery giant already close to controlling 50% of internet food sales.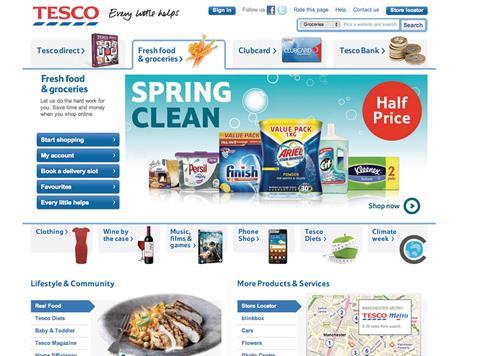 Tesco expects to double its online grocery revenue to £5.5bn in the next five years, as the popularity of internet food shopping grows.
Director of internet retailing Ken Towle said the growth is achievable if the market continues to develop at a rapid rate and that Tesco is already on the cusp of a 50% market share in food online. It now stands at 48%.
Towle said online accounts for a small proportion of total food spend across the industry at present – about 3% – but that more people buy over the internet than this figure suggests.
He said: "The proportion of people who shop online is much higher – around 20% of people have tried to buy grocery online at some point. We can see online shopping at Tesco doubling over the next five years in grocery."
He said Tesco had succeeded online because of its first-mover advantage and innovation, and many opportunities remain. "More and more people are varying the channel they use," he said.
He did not give a figure for Tesco's likely level of online food sales in five years time, but industry body IGD puts them at £2.74bn in 2011.
Online grocery revenues are expected to increase from 3.8% of the total £156.8bn grocery market in 2011 to 6.1% of a £184bn market in 2016, according to IGD forecasts.
But Bryan Roberts, retail insights director at Kantar Retail, said Tesco could not take online success for granted. He cautioned: "Tesco has the most to lose – it is far and away the most profitable as it's benefited from being an early starter."
Roberts said Morrisons and Marks & Spencer, both expected to launch online grocery operations in the next few years, could significantly encroach on Tesco's share.
Tesco's UK performance has slipped in recent months, but Towle backed group chief executive Philip Clarke to revive its fortunes. Towle said Clarke had noticed that a focus on efficiency had got "in the way of customers at Tesco".
He added: "The business just needs a bit of fine tuning."
Towle explains operations at the grocer's new £30m 115,000sqft store which opened last month.