Tesco is celebrating the start of tennis tournament Wimbledon with the launch of a strawberries and cream sandwich.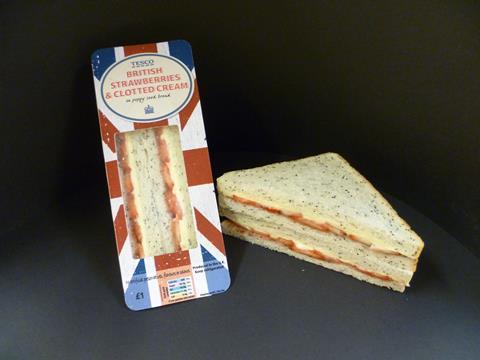 Priced at £1, the sandwich is made from British strawberries, Cornish clotted cream and strawberry jam, served on white poppy seed bread. It will be sold at 750 Tesco stores.
Tesco said it is also celebrating the biggest crop of home-grown strawberries for at least 20 years with the sarnie launch.
Tesco sandwich developer Kathryn Battles said: "We wanted to create an iconic feel-good sandwich treat that evoked a classic feeling of summertime.
"And no food is as evocative of British summer or puts a smile on people's faces more than strawberries and cream.
"Our challenge was to make the whole sandwich hold together but, by using clotted cream together with a small dollop of strawberry jam, it works very well."