Group of 60 Tesco investors are claiming £150m in compensation
Comes after the grocer overstated profits by £263m in 2014
Litigation funders Bentham Europe have spent two years compiling the case
It is now expected to be filed with the high court this month
Tesco is facing legal action from a group of 60 shareholders who claim to have lost £150m following the grocer's accounting scandal.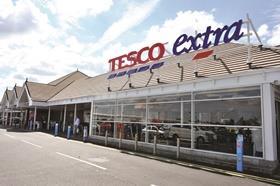 Bentham Europe, the firm funding the claim, said the investors were "misled by information inaccurately provided to the market" when the supermarket giant overstated profits by £263m back in 2014.
The discovery of the black hole in Tesco's accounts, which came just weeks after Dave Lewis had been parachuted in early as its new chief executive, caused the grocer's value to slump by around £2bn.
Law firm Stewarts Law and litigation funders Bentham have spent two years putting the case together and are poised to file the claim later this month.
The news will come as a fresh blow to Lewis, just days before Tesco unveils its interim results.
Mixed fortunes
The supermarket giant is expected to reveal that it has grown half-year profits as it continues to gain trading momentum, but analysts have warned that Tesco's pension deficit could have ballooned by around £3.3bn since the last valuation.
And the grocer could face a further headache after Bentham's chief investment officer Jeremy Marshall told The Guardian that the £150m legal action was just "the first wave" of claims.
He said: "There will be a second series of investors that will join a bit later. A lot of people thought this case would never get off the ground."
Marshall said investors would need to prove dishonesty at director level in order to be successful in their claim, but insisted that the bid had been helped by the result of a probe by the Serious Fraud Office (SFO).
The SFO has charged three former Tesco executives with fraud in relation to the accounting scandal.
The grocer's former UK boss Chris Bush, ex-UK finance director Carl Rogberg and former commercial director for food John Scouler have all been charged with one count of fraud by abuse of position and one count of false accounting.
The trio, who all deny the charges, will appear at Southwark Crown Court later this month while the SFO continues its investigation into Britain's biggest retailer.
Tesco declined to comment on the claim.