Tesco's online grocery sales are expected to have hit £2.5bn in its last financial year as the retailer pushes forward in its quest to become a global dotcom business.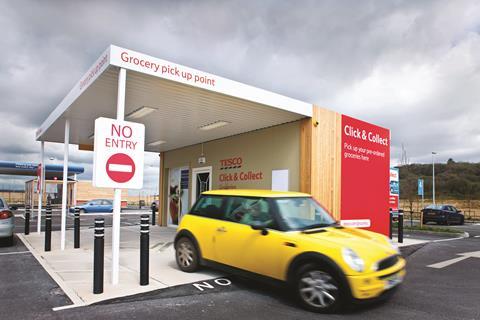 The 13% increase, estimated by Panmure analyst Philip Dorgan, will cheer Tesco chiefs as they seek to move on from the horse meat crisis and the cost of an expected US exit.
Sales at Tesco's non-food online business, Tesco Direct, are forecast to have reached £700m in the year to February 23, up from £550m the previous year.
Last year Philip Clarke, group chief executive of Tesco, which is due to post full-year results next Wednesday, called an end to the retail space race in the UK to focus instead on building online operations.
Clarke said last month that "digital is now intrinsic to retail". The grocer will invest $750m (£490m) in technology this year, up threefold in three years, and expand its digital presence in all its markets.
Clarke said that in future "app development is going to be just as important as property development". Since year-end Tesco has launched online grocery in Bangkok and that will be followed by Kuala Lumpur and Shanghai by the summer.
Dorgan said the grocer has an opportunity to "become one of the few large global online players".
He said that, while Tesco's profits are expected to take a hit as it grapples with difficulties in some markets, the strategic direction of the grocer is more important.
Consensus for Tesco's group trading profit is £3.4bn compared with £3.8bn last year.
Dorgan said: "Short-term profit is irrelevant - it is all about what is being created for the future."
However, he pointed out that Tesco's non-food online business still needs development.
The grocer said in January that general merchandise - both in store and online - performed better than in the previous quarter but there was still more to be done to refocus the business on sustainable, profitable categories.
Tesco is expected to write down the value of its US assets when it updates next week. The grocer faces a bill of about £1bn to exit the Fresh & Easy business.
In the UK, Tesco took a hit during the horse meat scandal after a successful Christmas, but its fast response to the crisis is expected to stand it in good stead.