Tesco boss Philip Clarke has said the grocer cannot speed up its turnaround despite the worst quarterly like-for-like sales fall in his 40 year tenure.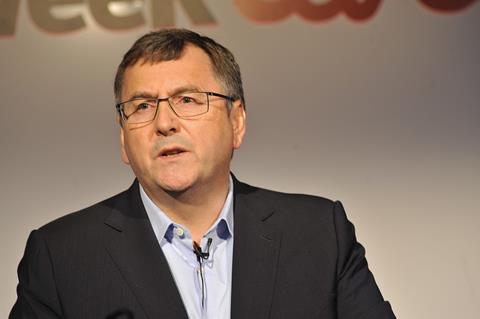 Clarke, speaking as Tesco reported a 3.7% fall in like-for-like sales excluding petrol in its first quarter, said: "I don't think we can go any quicker. We're going at full pelt. Never before have we attempted to refresh 650 stores in a year, it's a big change. If we try to go any faster, we'll risk it."
He said the most difficult task at present is "being able to keep up the pace".
Clarke added he was determined to "see through the fundamental reshaping of Tesco". But he said the coming quarters would still be affected by the changes in the business, and would not be drawn on when Tesco would start to see an uplift.
Tesco refreshed just over 100 stores in the quarter and will refresh over 200 more by the end of the first half.
He said around 1-2% of the 3.7% decline was self-inflicted and related to the disruption from the repositioning, with the remainder being market conditions.
Clarke said that the "whole market is soft" but added: "I don't remember us ever putting ourselves through so much deliberate action that affects our short-term sales."
The grocer said it has reduced the level of untargeted promotions and "indiscriminate couponing", and instead focused on long term loyalty schemes such as its Clubcard Fuel Save offer.
Tesco also said its work to sharpen prices has included four main waves of price reductions in the quarter. It said volumes on the lines were up over 28%.
Tesco will air a new TV ad tonight to tell customers about its price reductions. Clarke said: "The ad is simple and tells customers our prices have come down and they're staying down."
He said that "loyalty is the prize" and he is assured Tesco customers will understand that the offers it provides give "real rewards".
Tesco has implemented lower delivery and service charges for grocery home shopping, including free Click & Collect and £1 one-hour delivery slots. Since launch, Tesco said it has fulfilled over 100,000 daily orders on four occasions, a milestone never previously reached, even during Christmas.
Tesco reports 3.7% like-for-like slump in first quarter
1

2

3

4

Currently reading

Tesco chief Philip Clarke says the grocer is "going at full pelt"

5

6

7