When Tesco revealed it had struck a partnership with French grocery giant Carrefour, two words instantly sprang to mind: buying power.
Two of the powerhouses of European food retail are forming a "strategic alliance" that will allow them to improve choice, quality and, crucially, source goods at lower prices.
While the latter will provide a headache to suppliers – and allow Tesco to accelerate the drive to hit its 3.5-4% margin target – the deal will have knock-on effects for the grocer's rivals and customers too.
Here, Retail Week examines the main implications of the tie-up.
What sparked the deal?
The retail market is moving at an incredible pace, but grocery in particular is experiencing a seismic shift.
Two major acquisitions revealed last year – Tesco's purchase of Booker and Amazon's swoop on Whole Foods – served to highlight the scale of change.
Since then, Sainsbury's and Asda have agreed to a £13bn mega merger, while Carrefour has partnered with Google to launch an online push.
One grocery executive likens working directly with Amazon – in the way that Morrisons has done through a supply agreement – to "dancing with the devil", and says food retailers are increasingly seeking to team up with each other to protect themselves from the looming threat of the US etail titan.
But there are other factors at play, too. The discounters have driven prices down and forced mainstream players to operate at reduced margins to protect market share.
The Brexit vote created further headwinds, pushing up the cost of sourcing goods from outside the UK.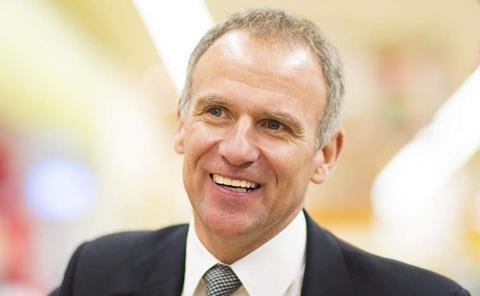 Tesco is on a mission to slash the amount of cash it spends on goods not for resale, such as cleaning products, stationery equipment and trolleys.
It says it has been working on the Carrefour partnership for "a couple of years", though it is not clear whether those talks started before or after the referendum in June 2016.
Brexit aside, GlobalData UK retail research director Patrick O'Brien suggests Tesco is "concerned by the increased potential buying scale" of the proposed Sainsbury's-Asda combination and believes both Tesco and Carrefour are "worried" by Amazon's European grocery ambitions.
But he says the ongoing growth of the discounters would have been the crucial factor behind the partnership.
"A key focus of the tie-up is to reduce prices on own-brand products, and this is more of a direct response to Aldi and Lidl, whose offers are heavily weighted towards own brand," O'Brien says.
"Tesco and Carrefour have both struggled to match the discounters on quality and price and the alliance should help it compete."
Tesco has invested heavily in revamping its own-label proposition, including phasing out its Everyday Value entry-level lines and replacing them with a host of new brands such as Eastman's deli foods, Hearty Food Company and Ms Molly's, to better compete with Aldi and Lidl.
Last week, following a tour of Tesco's new Heart building in Welwyn Garden City, the grocer's boss Dave Lewis flagged the increasing importance of its own-label performance.
More than 50% of all food items purchased at Tesco are now private label products, up from "the mid-to-high 30s" when Lewis joined the business in 2014.
Amid the threat of proprietary brands potentially going direct to consumer, driving the quality and value of exclusive own-label lines has never been more important – a strategic goal the Carrefour tie-up should help Tesco to achieve.
Why has Tesco chosen Carrefour?
Like Tesco, Carrefour is the market leader in its homeland – and the French grocer's numbers speak for themselves.
In its 2017 financial year, Carrefour generated a recurring operating income of €2bn (£1.77bn) on sales of €88.2bn (£78bn).
Carrefour's international operations raked in €1.39bn (£1.23bn) of profit having amassed €43bn (£38bn) in sales and it is that impressive global presence and expertise that will have appealed to Lewis and his executive team.
Taking into account markets where it has formed franchise partnerships, Carrefour operates in more than 30 countries including Brazil, Spain, Argentina, Belgium and Italy – its five biggest overseas territories.
It is the world's third-largest grocer, behind only Walmart and Costco, and has designs to become the fourth-largest online food retailer behind Walmart, JD.com and Tesco.
Such facts illustrate that, as far as securing a European partner is concerned, Tesco could not find a bigger business.
The combined buying power of the two grocers will allow Tesco to source in greater volumes at lower prices, from a host of markets where it has no retail presence and potentially limited purchasing expertise.
How will it work?
This is a key question, but one the two parties are seemingly yet to form a definitive answer to.
The retailers were obliged to inform the market about the proposed agreement today, but there is much to be finalised.
A formal agreement will be signed "within the next two months", at which time more clarity should emerge.
It is expected that buying teams from Tesco and Carrefour will join forces to create a central buying hub, sourcing goods in huge volumes from suppliers across the globe.
The relationship will not, however, extend to Poland or China – the only two countries where Tesco and Carrefour both have a presence.
At this stage, the pair have set up a small "clean team", made up of Tesco and Carrefour employees, as well as some external advisers.
This select group will be the only people granted access to commercially sensitive information from both businesses as the intricacies of the tie-up are ironed out.
What does it mean for suppliers?
Any increase in buying power of this scale inevitably leads onlookers to conclude that suppliers are going to be squeezed, as businesses buying in larger volumes demand lower unit prices.
Although that is an almost certain outcome of the deal, Lewis insisted just days ago that Tesco was not banking on FMCG giants like Unilever, P&G and Mars dropping their prices and sacrificing margin.
"The challenge for big brand manufactures is quality and speed of innovation," former Unilever executive Lewis explained.
"One of the things we do is to be quite innovative, quite quickly. For a lot of branded manufacturers – and I can say this having had some experience of it myself – that agility is not always there, so they are getting out-innovated by a lot of smaller players.
"Is the solution [for them] to change pricing or margin? I'm not so sure, but they will make their own calls. There is nothing in our 4% operating margin target that assumes a change in the margin mix of branded manufacturers. Nothing. I would never build a plan based on that."
Rather than squeezing suppliers, Tesco instead insisted that the Carrefour deal would "strengthen" its relationships with them and "create significant opportunities for those suppliers".
Tesco already supports smaller suppliers through its "incubator" initiative, which works with 14 brands every year to help them evolve their propositions and grow their businesses. The scheme counts craft beer company Brew Dog and tonic water specialists Fever Tree among its successful alumni.
Despite Lewis' words and Tesco's ongoing work with smaller suppliers, O'Brien believes the grocer's tie-up with Carrefour spells bad news for those selling their products to the two supermarket giants.
"For suppliers, this is another signal of battles ahead," he states.
"Sainsbury's and Asda have made it clear that it will target its largest suppliers for cost reductions by flexing their increased scale, and Tesco and Carrefour will look to do the same while reducing the number of branded products they sell as they increase their own-brand ranges."
What does it mean for shoppers?
Just as Sainsbury's did when unveiling details of its merger with Asda, Tesco this morning emphasised the "lower prices" on the shelf that could result from its tie-up with Carrefour.
It said the buying alliance "will enable both companies to improve the quality and choice of products available to their customers, at even lower prices, thereby enhancing their competitiveness".
However, Tesco refused to go as far as Sainsbury's and Asda by estimating how much it could slash prices by. Those two rivals say prices on staple products would come down by 10% if their merger goes ahead.
Although prices will be the key focus following the Tesco-Carrefour deal, choice could be the area where shoppers see the biggest difference in-store.
Wonder if it'll open up ranging opportunity. Taste of France in store, frogs legs in fresh foods etc. More pain for suppliers.

— Steve Dresser (@dresserman) July 2, 2018
Grocery Insight director Steve Dresser was among those on Twitter to clock the prospect of more French produce appearing on Tesco's shelves, for example, while Carrefour's presence in South America could present a further opportunity for Britain's biggest retailer to enhance its credentials in the 'world foods' arena.
Furthermore, Carrefour has placed organic food at the heart of its strategy, targeting a fourfold increase in organic grocery sales from €1.3bn (£1.15bn) last year to €5bn (£4.4bn) by 2022.
Carrefour's expertise in this area could help Tesco increase its exposure to a category that is likely to grow in the UK among an increasingly health-conscious and environmentally-friendly consumer base.
What does it mean for Tesco's rivals?
The prospect of Britain's biggest grocer adding further clout to its already considerable buying power – particularly following its £3.7bn acquisition of Booker – will surely concern its UK rivals.
Morrisons has already been widely touted as a potential acquisition target for Amazon as it bids to keep pace with its big four rivals, and the Tesco-Carrefour deal could add further urgency to any desire to tighten their existing relationship.
But Tesco's other mainstream rivals, Sainsbury's and Asda, could potentially benefit from the timing of the tie-up.
Veteran retail analyst Nick Bubb believes the pair will "cajole the Competition and Markets Authority into approving their merger", and suggests it will give it "pause for thought as it weighs up how picky to get" about the combination.
As Tesco strengthens its grip on UK grocery's top spot, the CMA could potentially take a more lenient view of the threat Sainsbury's-Asda poses to competition.
On the flip side, it could be left asking whether a merger is necessary to achieve the outcome of lower prices, or whether the duo could instead pursue similar buying alliances that have a less direct impact on the UK market.
And what about Aldi and Lidl? For them, it will surely be a case of business as usual, as the big four continue their defensive efforts to narrow the price differential and grow in the areas where the discounters are not currently present – online and convenience.
One thing is for sure: the Tesco-Carrefour deal re-emphasises the scale of the impact Aldi and Lidl have had in UK grocery.
With the wider economic and political landscape creating further volatility, it is unlikely we have seen the last of such major strategic shifts as the big four bid to galvanise their fightbacks.