Tesco boss Dave Lewis said the embattled grocer will "behave our way out" of trouble after reporting the biggest loss in its history today.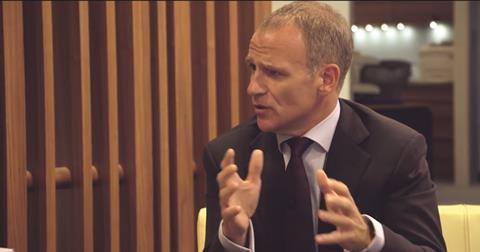 The supermarket giant's pre-tax losses plunged to £6.38bn for the year ending February 28, following a turbulent period blighted by the £263m accounting scandal, a series of profit warnings and the departure of Lewis's predecessor, Philip Clarke.
The majority of the loss came from £7bn in one-off charges which Tesco said were "predominantly non-cash", including a £4.7bn write down against its property.
Tesco's group trading profit for the 52-week period was £1.39bn, 58.2% down on last year, while UK trading profit slumped 79% to £467m.
Despite that, Lewis insisted he remained "confident" that he could turn the grocer around but admitted it would be a "long and bumpy" road to recovery as he bids to shore up Tesco's balance sheet, regain competitiveness in the UK business and rebuild trust and transparency.
"You can't talk your way out of things you have behaved your way into. We will behave our way out of this."

Dave Lewis, Tesco
He refused to set profit goals for next year in what he described as a "volatile" market, suggesting the supermarket giant would listen to customers more instead of being "slaves" to financial targets.
Lewis said: "You can't talk your way out of things you have behaved your way into. We will behave our way out of this."
He added: "In the past perhaps the pursuit of a very specific profit number or profit percentage has been a powerful driver of Tesco.
"We are clear about our responsibilities to shareholders to make money, but we are not going to be so slaverishly driven by that number that we in any way diminish the offer that we give to customers.
"We are at the very beginning of the journey – will it be bumpy? Yes it will be. But as we hit those bumps will I put the handbrake on and say: 'I've got to deliver more profit?' No. We will use the customer to guide our investment.
"How quickly can we rebuild it from where we are? That is what we are obsessed about. We are going to do the right thing every day, every week, every month and rebuild the business."
Margin drop
Lewis said part of that rebuilding process would be to return Tesco to an "above average" profit margin in the UK.
The supermarket giant's trading profit margin plummeted from 5.03% to 1.07% in the UK last year as it invested in price and lost shoppers to Lidl and Aldi, whose trading profit is around 5%.
But Lewis said: "I have no doubt that the opportunity for Tesco to have above average industry margins in the UK is there, definitely.
"We will lead this business back into that position."
Tesco is not alone - its big four rivals have all suffered margin erosion in the fierce price war, and Bernstein analyst Bruno Monteyne said that Aldi "probably couldn't believe its luck" that the big four were charging so much for groceries and allowing it to steal share. But he expected the gap between the discounters and Tesco to narrow.
Monteyne said: "When you have the same rents, the same building, almost the same staff and you sell less, your margins are going to go in freefall.
"Once you are stabilised, like they have done, the cost-cutting can start kicking in – you can re-adjust your costs and rebuild margins."
'Encouraging' signs
In other areas, Lewis' decision to put the customer at the forefront of its strategy is already paying off. UK sales volumes rose 1.5% in the fourth quarter, while like-for-likes by value improved to -1%, aided by more staff in stores offering better levels of customer service.
Tesco Extra stores, the grocer's largest, bucked the trend of shoppers turning to convenience stores by registering the best growth in terms of like-for-like sales performance in the fourth quarter, as the drop in sales shortened from -6.3% to -2.2%. That led Lewis to dismiss the belief that larger stores were "a dinosaur" of the industry and claimed they can once again become "the most convenient way" for its customers to shop in the future.
Summing up Tesco as a whole, Lewis drew on the analogy used by Shore Capital analyst Clive Black that claimed the big four were out of intensive care, suggesting Tesco's "vital signs" were encouraging, but added it could "still get healthier".
And Lewis fired a warning to his big four rivals, claiming: "if we need to invest more in order to continue that momentum, we will."
But Lewis said Tesco "will not become a discounter" in its drive on price and said its "unparalleled depth of range" will ensure it retains its advantage over Aldi and Lidl.
In a further bid to regain trust and transparency and transform the grocer into the "customers' champion," Lewis said he had met with 110 suppliers "with open ears" to discuss their relationship with them.
The number of ways the supermarket negotiates with suppliers will drop from 24 to five this year and will fall further to three in 2016.
No further closures
Lewis added Tesco had no plans to close more stores, despite suggestions from analysts that the grocer would need to shutter hundreds more this year. Tesco has already closed 43 stores and shelved plans for 49 further openings.
Lewis, who admitted the challenges of the job had "manifested themselves in different ways" since he took the reins last September, said: "What we feel we have done is address absolutely everything we can see in our business in an open and objective way.
"We have done a very, very thorough review of our property. We took, together, a very difficult decision to close 43 stores and not to deliver 49 sites. The 43 stores that we closed weren't cash positive. When we looked at them, we couldn't see a way that the changes we were making would have a material impact and make them profitable going forward.
"With the rest of the portfolio, if we think we can recover that store, then it's our job to do so. We've made the evaluation, we've made the changes, and now our job is to focus on trading those stores better than they were last year.