UK like-for-likes rise 0.9% in three months to February 27
Group full-year pre-tax profits hit £162m, compared to £6.3bn loss in prior year
FY total group sales edge up 0.1% to £48.4bn
Tesco has reported its first rise in quarterly UK like-for-likes in three years and is back in the black for its full year.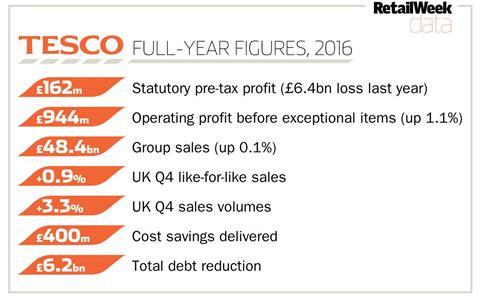 The grocer, whose boss Dave Lewis is attempting to turnaround the business, revealed that UK like-for-likes in the three months to February 27 rose 0.9%. It comes off the back of a 1.3% rise in Christmas like-for-likes in the UK.
Full-year group sales edged up 0.1% to £48.4bn.
Group full-year pre-tax profits hit £162m, Tesco said today, compared to a £6.4bn loss the prior year. The giant loss, one of the biggest in UK corporate history, was mainly due to £4.7bn of property write-downs.
Lewis, who took the reins 18 months ago, has boosted Tesco's bottom line with the sale of its South Korean business, the closure of 43 unprofitable shops and by pulling the plug on plans to develop another 49.
Tesco revealed it has cut debt by £6.2bn, partly helped by the sale of its South Korean business.
Significant progress
Lewis said today: "We have made significant progress against the priorities we set out in October 2014."
He added: "We set out to start rebuilding profitability whilst reinvesting in the customer offer, and we have done this. More customers are buying more things more often at Tesco."
But he warned the market would remain challenging. He added: "As a team, we are committed to serving shoppers a little better every day, in what remains a challenging, deflationary and uncertain market.
"We are confident that the investments we are making are leading to sustainable improvements for customers whilst creating long-term value for our shareholders."
Tesco announced yesterday it is selling its stake in South East Asian ecommerce platform Lazada, while reports suggest it wants to offload its garden centres business Dobbies, coffee chain Harris + Hoole and loss-making restaurant business Giraffe.
Lewis has also introduced new initiatives to up its fire-power in the grocery price war, including last month launching a clutch of new own-brand 'Farm' labels. It has also simplified ranges and launched a 'Brand Guarantee' price match scheme.
In the UK, it said volumes rose 3.3% in its fourth-quarter, while total transactions increased 2.8%.
International volumes in the latest quarter climbed 5.5%.
Deputy news editor Luke Tugby's verdict:
These full-year figures, accentuated by a rise in fourth-quarter sales, mark one small step for Tesco, but one giant leap for Dave Lewis.
This is vindication that the chief executive's plan to transform the grocer and return it to its position as the star of the sector is bearing fruit and gaining momentum.
But Lewis, and Tesco, will not rest on their laurels.
Vast improvements have been made in terms of price, availability, range rationalisation and customer service, yet the work doesn't stop there.
Lewis was quick to acknowledge that on a call with journalists this morning, giving a real sense that Tesco has recovered from its crisis, is stabilising and can now begin to shoot for the stars again.
It is already back on the front foot with its Brand Guarantee scheme and the launch of its entry-level 'Farms' brands – but the clear message is that there is more to come.
That should serve as a warning to its rivals, both within the big four and beyond.
Tesco back in the black as UK like-for-likes return to growth
1

Currently reading

Tesco back in the black as UK like-for-likes return to growth

2

3

4

5