Supermarket sales rose for the seventh straight month in June, but Asda is "falling behind its peer group," according to new figures.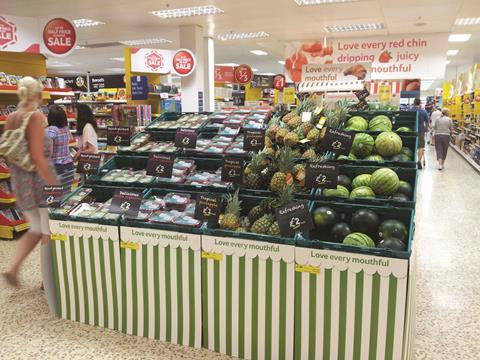 Sales volumes were up 0.3% during the four weeks ending June 20, according to Nielsen figures. But the value of sales at the till fell by 0.3%, the third consecutive month of year-on-year decline, driven by deflation and in-store promotions.
Asda saw the biggest decrease in year-on-year sales among the top 10 supermarkets, slipping 3.8% in the 12 weeks to June 20.
Big four rival Morrisons continued its momentum as sales jumped 1.4% during the same period. The grocer was the only big four supermarket to record back-to-back periods of sales growth, Nielsen said.
Aldi had the biggest growth in sales, jumping 20.1% during the 12 weeks, while fellow discounter Lidl saw sales rise 7.4%, according to the figures revealed today.
Nielsen's UK head of retailer and business insight Mike Watkins said: "One third of shopper spend is on promotions and price cut items – this level of promotional activity encourages shoppers to visit more often but does mean spend per visit is down a little on last year at many supermarkets."
Watkins added: "Asda is falling behind its peer group, in contrast to Morrisons where things are looking encouraging. Sainsbury's performance remains broadly the same whilst Tesco's fall in sales is now slowing.
"Looking ahead, the early part of July is set for good weather – good news for food retailers and many brands.
"This encourages shoppers to spend more, with increased visits and larger basket spends, particularly in fresh, chilled and impulse categories. This is likely to benefit the 'big four' who've a greater depth of range in their larger stores."
| | 12 weeks to Jun 20 2015 | 12 weeks to June 21 2014 | % sales change |
| --- | --- | --- | --- |
| Tesco | 27.9% | 28.5% | -1.7% |
| Sainsbury | 16.1% | 16.2% | -0.7% |
| Asda | 15.7% | 16.3% | -3.8% |
| Morrisons | 10.8% | 10.7% | 1.4% |
| Aldi | 6.0% | 5.0% | 20.1% |
| Co-operative | 5.6% | 5.6% | 0.0% |
| Waitrose | 4.2% | 4.2% | 2.0% |
| Lidl | 4.0% | 3.7% | 7.4% |
| Marks & Spencer | 3.1% | 3.0% | 2.9% |
| Iceland | 2.1% | 2.1% | -0.2% |