Tesco has opened its first cashless c-store at it tests a raft of initiatives designed to speed up the shopping trip.
The supermarket giant is piloting the new format within its new state-of-the-art Heart building at its Welwyn Garden City HQ.
The store, which is open to Tesco employees and members of the public, features a bank of card-only checkouts to make payment quicker and easier.
Tesco is also testing a smartphone app among 100 of its head office employees, which allows customers to scan and pay for items on their mobile without having to visit a checkout at all.
"The moves away from cash and scrapping the scales that weighed customers' bags has slashed the average checkout time from 90 seconds to just 45 seconds"
It comes as a raft of retailers trial new and convenient ways of paying in-store.
Amazon has set the bar with its Go convenience store in Seattle, which allows shoppers to take goods off the shelf and simply walk out of the store.
Cameras and sensors track what each customer has taken and automatically charges their Amazon account.
In the UK, Sainsbury's and the Co-op have both trialled 'scan and pay' mobile phone apps in a similar drive to speed up the checkout process.
Tesco said the two payment initiatives formed part of a new-look shop that features its latest thinking in six key areas: cashless checkouts, frictionless shopping, layout, look and feel, hero areas, and environmental factors.
Cashless checkouts
The checkouts Tesco is testing at its new Welwyn Garden City store only accept card payment – and have eliminated the much-maligned bagging area.
Customers here will never again be subjected to the infamous phrase "unexpected item in the bagging area".
Tesco's convenience transformation director Steven Blair said the moves away from cash and scrapping the scales that weighed customers' bags has slashed the average checkout time from 90 seconds to just 45 seconds.
That, in itself, represents an appealing reason to roll out the new checkouts to c-stores across the UK.
Frictionless shopping
Alongside the cashless checkouts, Tesco is trialling another method of payment that creates even less friction – an app that enables shoppers to scan and pay for their shopping using nothing but their mobile phone.
This is currently only being used by 100 Tesco employees as the grocer tweaks the technology and assesses whether it could be used more widely across its 1,800-strong c-store network.
It declined to provide any details about the app or any early results, but Blair admits it represents an "interesting opportunity" for Tesco.
With the likes of the Co-op and Sainsbury's having already trialled similar payment propositions, it may not be long before such scan-and-go apps become more commonplace across the grocery sector.
Layout
Tesco has used camera technology to track how people shop its stores and has tweaked the layout to reflect customer habits.
The grocer has distinctly split the two 'food for later' and 'food for now' shopping missions, directing customers to the left should they be shopping for groceries to eat that evening, and right if they want food to go.
In the 'food for later' section of the store, Tesco is testing a move away from the traditional divide between fresh, frozen and ambient produce.
Instead, a bank of fridges containing meal options such as fresh fish, pizza and ready meals sits opposite fresh ingredients that customers are likely to use to accompany such dishes, including salad, garlic and fresh herbs – the latter of which are not usually stocked in Tesco's Express stores.
Blair explains that fridges within the store are being thought of in 50cm modules, rather than the traditional 1m, meaning the grocer can utilise space "in a more efficient way" and be more flexible with regards to how much space it designates to particular products.
Look and feel
Tesco has introduced what Blair describes as a "more urban" look and feel to its first cashless store.
The polished concrete floor, fresh signage and contemporary lighting that hangs from the ceiling in what is almost a metal maze all represent a departure from what customers would recognise as a standard Tesco Express store.
Lower-level shelving units have also been introduced, creating a more open feel to the shop, while a more "modular" bakery section would allow staff to tailor the number of baskets and shelves depending on what is selling well at different times of the day.
Hero areas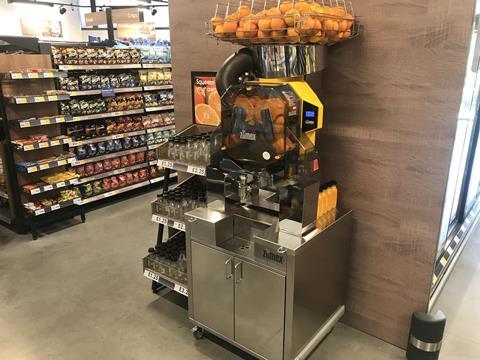 Improving the flexibility within the bakery section is just one way Tesco is looking to create "hero areas" within its c-stores.
At its Welwyn Garden City test-bed, the grocer has brought in an orange juice machine, which has outstripped sales expectations in its first six weeks.
According to Blair, bananas are the biggest-selling product by volume in its c-store network. But he says bottles of fresh orange juice squeezed by the machine are "competing very well" with banana sales.
Environmental factors
Tesco is placing huge importance on music and the atmosphere that it creates in a store.
It is working with Dunnhumby, the data experts behind its Clubcard loyalty scheme, to tailor music in each of its stores.
Dunnhumby has gathered customer data to build a clear picture of the average demographic in each of Tesco's shops. It means that stores in university towns that attract students, for example, will have a contrasting playlist to an Express store situated in a village popular with retired residents.
Blair says all of that information and the music playlists are stored within the cloud, meaning staff don't have to do anything to alter the songs they hear in their shop.
Eyeing a roll-out
Despite the store having only been open for six weeks, Tesco boss Dave Lewis is confident the new format would be well received in other parts of the UK, particularly in busy cities like London.
Lewis says: "The biggest single dissatisfaction of anybody in a convenience store is that there are queues. The idea that we could halve the queuing and transaction time in Expresses is the big benefit."
"We told Tesco colleagues three weeks beforehand that it was going to be cashless and in the first week I saw people walk in there saying: 'What do you mean I can't pay with cash?'"

Dave Lewis, Tesco
He adds that in areas such as Canary Wharf, around four in every five transactions are already cashless. In such stores where such a high proportion of shoppers are already shunning cash payments, the switch to card-only checkouts would be a smoother transition.
"We have some stores where more than 80% of transactions are cashless. The ability for us to move there, we think, is relatively straightforward," Lewis explains.
"Most of our self-service kiosks are both card and cash, whereas these machines [at Welwyn Garden City] are card-only – and they are cheaper machines. We have to change the machines, so we will probably do it in the normal cycle of changing our tills, which we do on a regular basis."
However, he refused to provide a timeframe on when that would happen – and warned that Tesco would need to be careful not to upset shoppers and to ensure it communicated the change fully.
"Let's be candid – this is Tesco colleagues," he said of customers at the cashless store.
"We told Tesco colleagues three weeks beforehand that it was going to be cashless and in the first week I saw people walk in there saying: 'What do you mean I can't pay with cash?' When you make the move, we need to make sure it doesn't cause any dissatisfaction."