Sainsbury's has launched in China through a partnership with Alibaba's Tmall website five years after first exploring an entry into the country.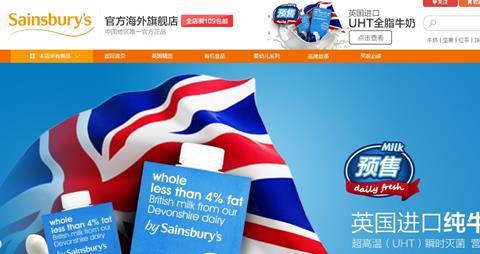 The grocer began testing the waters in China this week, Retail Week has learned, and is initially focusing on selling "high-quality ambient product" to tap into the growing demand in China for premium organic ranges.
China's online grocery market is forecast to grow five-fold to almost $180bn (£115bn) by 2020, according to IGD. It will be worth almost $70bn more than the other top nine online grocery markets combined in 2020.
However, confidence in the growth prospects of the Chinese economy has taken a hit of late as fears grew the economy's growth was slowing quicker than expected.
Chinese consumers are placing a growing emphasis on the provenance of products after a series of food supply scandals in the country.
In January last year Walmart recalled a donkey meat product in China after tests by The Shandong Food and Drug Administration revealed it contained DNA of other animals, including foxes.
Sainsbury's is selling own-brand long-life British milk from a Devonshire dairy on its Tmall website. Other products being sold include a baby range and the components of British afternoon tea, including speciality teas, coffees and biscuits.
No physical stores
A Sainsbury's spokeswoman said: "'We are trialling a small number of ambient products for sale on the Alibaba platform, including So Organic and Taste the Difference lines, for sale through the Chinese online market."
It is understood Sainsbury's is not planning to open any physical stores in the country.
Sainsbury's first sent a six-man team to China in order to explore the possibility of opening stores in China in 2010.
However, plans were shelved, and it is believed top executive Darren Shapland stood down as a result in 2011. Shapland had been asked to study the possibility of overseas expansion, including China.
The Sainsbury's spokeswoman said it was too early to say how the launch is progressing, but the grocer may release initial results as early as next week.