Sainsbury's has issued a '50p challenge' to its staff, urging them to encourage customers to spend an extra 50p per shopping trip until the year-end.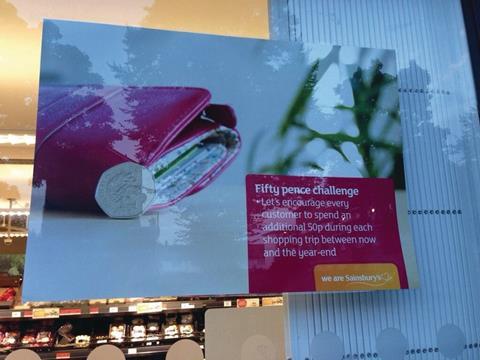 The staff challenge, which came to light when a poster meant for internal purposes was mistakenly put up in a shop window in Stratford, comes as new chief executive Mike Coupe prepares to update the market tomorrow on second-quarter trading.
Sainsbury's processes 24 million transactions per week, meaning the target equates to around an extra £280m by the year-end.
The poster reads: 'Fifty pence challenge. Let's encourage every customer to spend an additional 50p during each shopping trip between now and the year-end.'
The move comes as the big four grocers come under intense pressure from changing market conditions and the rise of the discounters. Last week Sainsbury's kicked off a campaign telling customers it had lowered thousands of prices across its food lines. It also changed its Brand Match price comparison tool to compare prices with Asda instead of Tesco, as it said that Asda is seen as the leader on price.
Cantor Fitzgerald analyst Mike Dennis welcomed the idea but also questioned how it could be executed in store. He said: "It's a good idea because people can relate to it. I think what they're introducing is some theatre and challenge [for the staff]."
A Sainsbury's spokesperson said: "We often use posters to make store targets fun and achievable for our colleagues. They are intended for colleague areas in the store, but this one was mistakenly put on public display."