Sainsbury's chief financial officer John Rogers believes margins in the grocery sector will "stabilise" at around 3% in the next few years.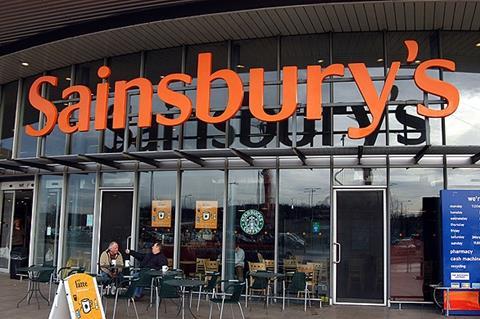 Finance chief Rogers predicts 3% grocery margins will become the norm
Coupe insists grocer will go "toe to toe" with rivals on price
Rogers believes discounters are reaching "saturation" point
The supermarket giant's retail underlying operating margin fell from 3.65% last year to 3.07% in 2014/15 as it fell to a pre-tax loss of £72m, its first in a decade. But Rogers said those margins will become the new norm across the industry.
Its big four rival Tesco's margins plummeted to 1.07% from 5.03% the previous year, while discounter Aldi's margins currently sit at around 5%.
Rogers said in that context it marked a "relatively stable year" for Sainsbury's, despite an investment in price during the second half of the year that saw prices slashed on 1,100 products. Sainsbury's chief executive Mike Coupe said that sales volumes on the discounted products had increased 6%.
"We would expect to see medium to long-term margins for the sector stabilise at around 3%."

John Rogers, Sainsbury's
Rogers said: "We now have the highest operating margins in the UK food retail sector from a listed perspective. That's a good thing for our business.
"We have made significant price investment, particularly in the second half of last year. Mathematically you would expect that margin to dip slightly next year as those price investments that we made in the second half of last year start to annualise.
"In my view, we would expect to see medium to long-term margins for the sector stabilise at around 3%.
"The question the industry is asking itself is how much will that dip by in the short term and how long will that take to recover? I think we will see a small dip next year and then hopefully we should see an improvement.
"But time will tell. The market remains very uncertain at the moment and increasingly competitive. We just need to make sure we are doing the right things by our customers."
Price position
Coupe said part of that strategy to "do the right things" for its shoppers is investing in price - something he insisted it will continue to do.
He fired a warning shot to his grocery rivals on that point, saying Sainsbury's would go "toe to toe" with any grocer on price.
Coupe added: "Our prices have never been better. We believe we have the financial capacity to maintain that position."
Rogers said Sainsbury's had "plenty of financial capacity" to invest further in price and was "confident" the grocer could continue to follow the market on that front, should the price war become even more intense - something Coupe has previously predicted.
Rogers added: "If you look at our balance sheet strength, we actually are in a pretty strong position. Some of the measures you would look at from a financial perspective would suggest that we have at least as strong a balance sheet as Morrisons and certainly a stronger one that Tesco.
"We absolutely have the full financial flexibility to compete on price if the market moves in that direction."
Saturation point
The fierce price war has been driven by discounters Aldi and Lidl as the German duo continue to woo customers from the big four and grow their market share.
But Rogers insisted that growth is now slowing after reaching a "saturation" point in their existing store estates.
"If you look at their existing estate, those are now trading at a level where it's difficult in some cases to see them trading any harder," he said.
"A lot of the growth of the discounters over the last 12 to 18 months has been historically like-for-like growth, in other words they have been improving sales in their existing estate, as well as adding new stores.
"They are now getting to a point in much of their existing estate where they physically can't trade those stores any harder. That's a reflection of the ability to get in and out of the car park and a reflection of the ability to push people through the tills.
"Clearly they are putting down new stores in the UK market and those stores will continue to grow, but their growth is slowing and that is partly down to the saturation in their existing estate."
Sainsbury's hit by £72m loss but Coupe hails 'encouraging signs' of growth
1

2

3

4

5

6

7

Currently reading

Sainsbury's finance boss says 3% grocery margins will be the new norm