Sainsbury's plunged to a £72m pre-tax loss for the 2014/15 year, driven by falling sales and property writedowns. This is what the analysts said.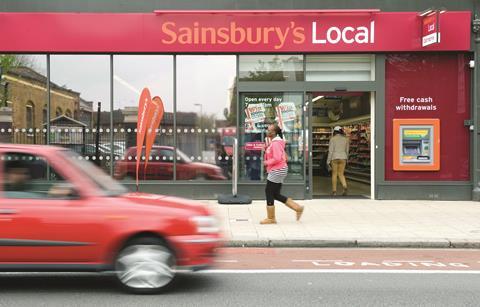 "The emphasis in the results is across the whole offer, with quality mentioned as much as price. There is an overall message of "great products at fair prices", differentiated from a "fair products at great prices" that the discounters offer.
"They also show strong growth in a number of channels: online up 13%, convenience up 16%, bank profit up 17% and general merchandise and clothing up over 9%. They continue to innovate and will be trying out new formats for convenience and supermarkets this year.
"There is also a more bullish stance on Netto, barely mentioned in previous results, that it will give them 'exposure to an attractive growth channel.'
"Sainsbury's clearly feel there is further to go. They will invest a further £200m in price in 2015/16 and expect negative like-for-likes. However they see £500m of cost savings over the next three years to compensate for this." Bruno Monteyne, Bernstein
-
"Mike Coupe has been making the right moves but time is not on his side, with shareholders baying for a short-to-medium term return on investment. But serving short-term profitability – such as saving £500m in three years through job cuts –might be counter-productive in the long run.
"Sainsbury's continues to struggle with the structural issues that confront all traditional big box players but it has made some positive moves to combat these problems. It has started some good initiatives such as subletting excess in-store space to non-food retailers, rationalising in-store assortment, increased focus on general merchandise and clothing, and repurposing its real-estate to develop residential apartments with Sainsbury's as the anchor occupant.
"Sainsbury's performance in terms of convenience and online expansion are notable and we expect to see continued investments in these channels. The grocer is down but certainly not out." Himanshu Pal, Kantar Retail
-
"The simple fact is that supermarket property assets are now worth far less, particularly sites that would have been originally earmarked for big-box. If sites offer less developmental potential their value is affected – this is simple economics.
"Even on an underlying basis, Sainsbury's trading performance continues to slip, with like-for-like declines the new normal for a retailer that, only 12-18 months ago, was leading the big four performance-wise. Sainsbury's is feeling the pressure from discounters continuing to lure away more affluent shoppers coupled with Tesco's nascent domestic recovery. As the latter gathers pace, Sainsbury's will appear increasingly vulnerable.
"But Sainsbury's does have some structural advantages over rivals. There is its convenience portfolio, which is large and growing fast. Also, it has more limited exposure to big-box, meaning its property writedown will be a fraction of rival Tesco's. All the same, a tough year lies ahead for one of the UK's largest grocers." David Gray, Planet Retail
-
"The Sainsbury's results weren't actually as bad as feared with the writedowns wiping out the trading profit for the year with a small loss added in. There is news that will hearten the investor community. Sainsbury's remains a very well-run business – our store visits indicate it is industry leading for store standards and availability.
"There remain questions for the Netto/Sainsbury's venture, if 15 stores are even enough to test the water. Discount is all about scale and arriving at 500-600 stores has taken Aldi and Lidl the best part of 25 years.
"The news of trials in convenience and larger stores will hearten. Their store formats haven't had a great deal of development in recent years, so anything new here will be appreciated and it will be interesting to see how these come together." Steve Dresser, Grocery Insight
-
"Today's worrying financials are the least of Sainsbury's woes, as dark clouds remain on the horizon. Improved trading at Tesco is likely to adversely impact Sainsbury's more than the other 'big four' supermarkets given their greater overlap of store locations. Meanwhile Sainsbury's hasn't been investing anywhere near as much as Asda and Morrisons when it comes to price cuts, relying rightly or wrongly on its quality credentials instead.
"Although many of Mike Coupe's initiatives look good on paper, the real question is whether these go far enough to deliver the value, service and quality that customers demand and that will clearly differentiate Sainsbury's offering away from the discounters, Waitrose and its larger peers. I fear that its proposition may simply be too middle of the road to gain traction with consumers attuned to seeking either best price or top quality products." Julie Palmer, Begbies Traynor
Sainsbury's hit by £72m loss but Coupe hails 'encouraging signs' of growth
1

2

3

4

Currently reading

Sainsbury's falls to £72m full-year loss: What the analysts say

5

6

7