Sainsbury's boss Mike Coupe admitted he has "no idea" of the inflationary pressures that will emerge next year, but vowed to maintain its price position.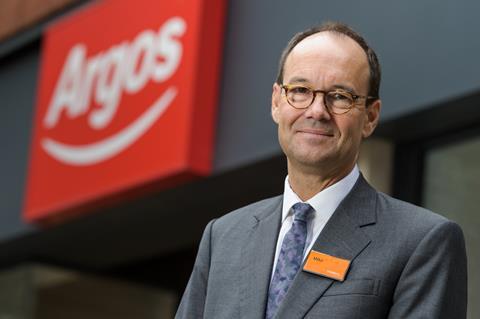 Grocers have locked horns with major suppliers over demands to increase shelf prices, with Tesco's high-profile spat with Unilever highlighting the issue.
Morrisons caved in to Unilever's request by hiking the price of Marmite by 12.5%, but its boss David Potts insisted the business was "working very hard" to continue reducing prices for consumers.
And Tesco's UK boss Matt Davies described food price inflation as "a bad, bad thing" as he promised that the supermarket giant would do "everything" it can to keep prices down.
Sainsbury's reported a 10.1% drop in underlying pre-tax profit to £277m in the 28 weeks to September 24 and cautioned that continued price investment and "a step up in cost inflation" would dent profits during the second half.
"We are comfortable with our price position relative to our competitors and we will maintain that price position whatever happens in the market."

Mike Coupe, Sainsbury's
Asked whether costs could rise beyond its current financial year, or whether food price inflation would persist, Coupe said: "Genuinely, we have no idea.
"We are living in unprecedented uncertain times. There are currency fluctuations, there are also commodity price differences. These things play out in the market place.
"We will focus on our day job of mitigating costs within our business, mitigating costs within our supply chains.
"But I'm also not shying away from the fact that there are areas where you have seen cost price inflation – the most obvious being the fact that the price of petrol has gone up 5p a litre since the middle of June."
Pressed on what impact rising costs in its supply chain would have on shelf prices, Coupe added: "We will always maintain our price position.
"We are never complacent, but we are comfortable with our price position relative to our competitors and we will maintain that price position whatever happens in the market.
"Clearly, there are cost price pressures within supply chains, but our job is to mitigate those with suppliers and to look at our business very hard in terms of how we reduce our costs to make sure we mitigate any impact on our customers."
Cost savings
Sainsbury's said it plans to make a further £500m in cost savings in 2018/19, but did not reveal how it plans to do so.
Coupe said there were "plenty of one-off initiatives" it could target in order to slash its overall cost base, such as installing solar panels onto the roofs of more supermarkets.
Sainsbury's is also targeting "capital light" areas of growth, including piloting the franchise model on petrol station forecourts.
The grocer has opened five c-stores on Euro Garages sites, with a sixth set to open this week.
Sainsbury's already operates around 20 convenience shops on petrol station forecourts, but Coupe said the franchise model could open up "quite an interesting avenue for growth."
He added: "We are exploring the opportunity of franchising – that's a big step for us. The sixth store opens this week, we've got five trading and it's very early days.
"At this point in time it's difficult to predict, but if it was successful there are a lot of sites around the UK that the underlying model could be applied to.
"We've got to take it slowly and understand how it works, but so far so good."