Sainsbury's boss Mike Coupe has vowed to "reinvent" the supermarket as the grocery giant continues its fightback against the discounters.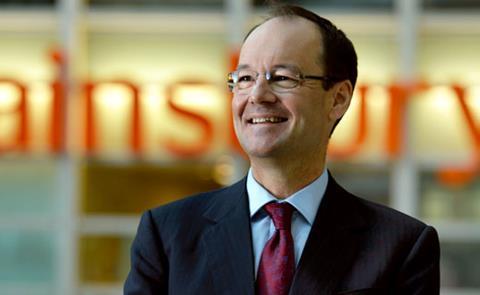 Coupe vows to introduce new formats at Sainsbury's larger stores
Six supermarkets earmarked for new format to win back shoppers from discounters
Comes after Coupe said shoppers would start to ditch discounters this year
Coupe said he wants to "push the boundaries" of shopping in a bid to win back customers and halt a period of falling sales.
He revealed Sainsbury's is drawing up plans for six stores across the country that will be revamped in a new format, designed to make supermarkets more convenient for shoppers and set larger out-of-town stores up to better compete with the growing online, discount and convenience markets.
Coupe kept the exact details and location of the stores close to his chest, but said that fresh food will be moved to the front of the supermarkets, while self-scan technology would be introduced to allow shoppers to pay for their goods using their mobile phones.
It comes after he claimed that shoppers could start to ditch the discounters and "trade up" by the end of this year.
He told The Telegraph the grocer was "doing a lot of work" on improving the layout of its supermarkets, in a bid to make larger out-of-town stores "more attractive" and "more convenient."
Coupe added: "Our challenge is to reinvent the superstore for the next generation, for the future.
"If you characterise last year as building a plan and making sure we had the financial capacity to execute the plan, this year for us is all about experimentation and starting to understand how we can make our larger stores in particular different for the future.
"That means easier to get around, more convenient to shop in, more technology in terms of interacting with customers differently, more non-food, and perhaps increasingly other third parties utilising some of our space.
"My measure of long-term success would be how and when we change the dynamic of our superstore business. We are certainly looking to push the boundaries of what we might do with those formats in the future."