Sainsbury's boss Mike Coupe believes shoppers could start ditching the discounters in favour of the supermarket giant within the next year.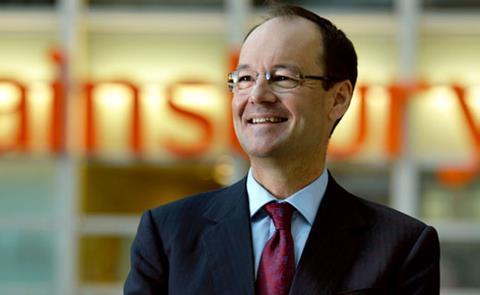 Coupe said consumers would soon start to "trade up within ranges and with supermarket fascias" as memories of the recession fade.
But Coupe admitted Sainsbury's is braced for a response from discount duo Aldi and Lidl, after Sainsbury's investment in price helped drive "broad-based" volume growth of 1.5% to 2% during its first quarter.
Despite that improvement, the grocer's like-for-like sales dropped 2.1% in the 12 weeks to June 6 while total retail sales were down 0.6%, but Coupe insisted that Sainsbury's has seen some "encouraging signs" for the medium to long term.
"People tend to trade up within ranges and within supermarket fascias. In our view, that should put us in a stronger position."

Mike Coupe, Sainsbury's
He said: "If you look at other recessionary cycles, as people have a bit more money in their pocket like they do at the moment, car sales are pretty strong, as are TV sales and electricals.
"People take more holidays and slightly better holidays and perhaps the thing that's most significant for food retailers is that people tend to start eating out a little bit more. We've seen a lot of growth in the restaurant sector over the last three to six months.
"But if you wind forward and draw on what's happened in previous recessionary cycles, as we come out the other side people tend to trade up within ranges and within supermarket fascias. In our view, that should put us in a stronger position.
"We haven't seen that yet, and if you look at other recessionary cycles we probably won't see it for another six to 12 months."
Retaliation
Coupe said it was "certainly possible" that more shoppers would start to buy more goods at Sainsbury's within that period. But Coupe warned that it was tough to predict what would happen next in a "volatile market" and said he was braced for a retaliation from discount duo Aldi and Lidl.
"It's part of the cut and thrust of the market," Coupe added. "Ever since I've been in this industry there's been a permanent price war going on. It's the nature of the market and I'm sure all of our competitors will respond as they see fit.
"We are very confident of our price position – our prices never been sharper and that's particularly relevant to the discounters. We will address any issues that come our way if there is any price response in the market place.
"Our price position is as strong as it's ever been and we will maintain that price position. If that requires us to invest more money, we will invest more money.
"The market is volatile and there are announcements week-in week-out from various competitors about their price investments, so we will continue to watch the market and make sure that we maintain our price position.
"We are confident we have the cash resources to deal with all but the most extreme scenarios."
Sainsbury's has already attempted to halt the rise of Aldi and Lidll by linking up with Scandinavian discounter Netto.
The Danish retailer returned to the UK last year as part of a trial partnership with the big four giant. It already has five stores across the country with two new stores in Hull and Lymm in Cheshire planned to open in November.