Rowe said the joint venture, which will see M&S take a 50% stake in the Ocado Retail business for £750m, represented "a game-changing proposition in the retail market".
From September 2020, Ocado.com will stock M&S' own-label food ranges among its 50,000 SKUs, taking M&S food online at scale for the first time.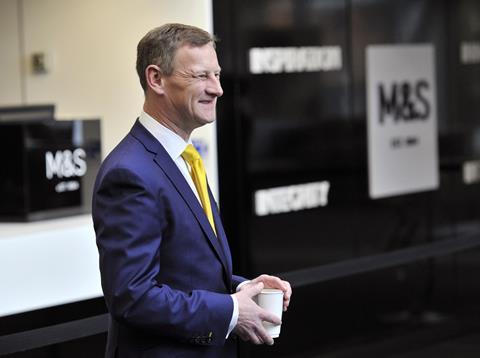 The retailer had previously only carried out two small-scale trials in Camden, north London, and Woodley, near Reading, to test online grocery deliveries among its Sparks loyalty card members.
Speaking to journalists this morning, Rowe said: "For Marks & Spencer, this is the biggest and boldest moment so far under our business transformation plan. It is a game-changing step forward in shaping the future of M&S and in becoming a truly digital-first retailer, with at least a third of the business online.
"I've always believed that M&S could, and should, be online. Our investment is a fully aligned joint venture with Ocado – it answers that and accelerates our food strategy by taking our food online in an immediately profitable, scalable and sustainable way. It is a win-win transaction."
Ocado, which took 15 years to turn its first pre-tax profit, said in the 52 weeks to December 2, 2018, the newly created joint venture would have generated sales of £1.47bn and EBITDA of £34.2m.
However, analysts have questioned whether the M&S Food brand would resonate with online shoppers, given that its average basket size is much lower than that of grocery rivals such as Tesco and Sainsbury's.
Rowe said, as a result of that fact, a joint venture of this ilk "was really the only way" M&S could have launched groceries online.
He added: "We're going to have a scalable business, profitably and sustainably, the moment we start. We think our product, combined with Ocado's own brand and their extensive range of other branded products, completes that basket.
"Ocado already has a significantly larger basket online and this is a great way for M&S to transform our food business."
Ocado's current deal with Waitrose will come to an end as a result of the joint venture with M&S.
Ocado boss Tim Steiner said Waitrose products currently account for around a quarter of sales made through Ocado.com. But he rebuffed claims Ocado shoppers could shift their spend to Waitrose's own online grocery platform as a result of the deal.
"Our customers have been unbelievably loyal to us for a long time," Steiner said. "We work exceptionally hard every day to do a great job for customers in range, in service, in pricing and we will continue to do that.
"Obviously customers have always got opportunities to go elsewhere and they always have had opportunities to go elsewhere, but we've built up hundreds of thousands of customers who shop with us every week and we believe customers will be delighted with the changes we have announced today."
Analysis: M&S and Ocado – the £750m questions answered
1

2

Currently reading

M&S boss Steve Rowe hails Ocado deal as 'boldest moment' in transformation

3

4