Tesco proves 'every little helps' to hungover workers, Santa re-fuels at Costcutter and it's 13th time lucky for Asda's new checkout man.
Every little hangover helps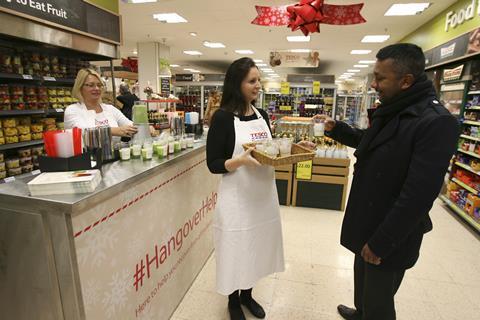 The Christmas party season may be almost over as people begin to look forward to the big day – but Tesco has been helping City workers get over those big nights. The grocer came to the rescue of bleary-eyed commuters after opening a clutch of Hangover Help stations in three of its London stores. The pop-ups, which opened at Canary Wharf, Bishopsgate and Monument, provided worse-for-wear customers with feel-good smoothies and life-saver juices, featuring ingredients ranging from bacon to banana, peanut butter to pineapple. Shoppers were also handed recipe cards so they could create their own re-energising breakfast drinks at home. Roll on New Year's Day…
Santa re-fuels at Costcutter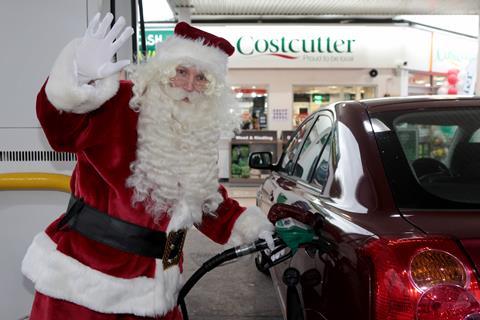 A word of warning from Retail Week: some children may be left disappointed this Christmas. With just a week to go until the big day, Santa should be busy filling his sack full of presents. Instead, he's been busy helping drivers fill their cars with fuel. Father Christmas was at Costcutter stores in Maidenhead and Wallasey to lend a helping hand to motorists and talk to children, as the convenience specialist relaunched the stores following refurbishments. Let's hope Santa gets back ho-ho-home to the North Pole in time to prepare for his packed Christmas delivery schedule.
Asda job is for life, not just for Christmas
Asda has given one man the perfect Christmas present – a job. The supermarket giant has hired Tom Stephens as a checkout operator at its store in Altrincham, Greater Manchester, ending his exhaustive five-year hunt for employment. Tom, who suffers from cerebral palsy, has applied for 950 jobs in that time, but claimed only 50 companies gave him the courtesy of a response. Now the 23-year-old became part of the Asda team following an eight-week training course with skills specialist Ingeus, combining classroom learning with work experience. After 12 unsuccessful job interviews in the past year, number 13 was far from unlucky.