Tesco has gone loopy for Wimbledon, fashion stores are leaving customers in the dark and Majestic Wines races to Silverstone.
Tesco gets into the Wimbledon spirit
June marks the highlight of the British summer and the highly anticipated Wimbledon tennis championships. Despite all the rain, Tesco has decided to celebrate at stores within close proximity of the world-famous tennis grounds.
With more than 500,000 visitors to the two-week competition each year, Tesco Metro Wimbledon expects to sell roughly 1,500 tonnes of strawberries and enjoy a rush on litre bottles of Pimms. For those uninitiated in the Wimbledon tradition, it will also host strawberry and cream tastings.
The store has prepared survival kits to hand out to enthusiastic tennis fans who queue outside the ground, containing essentials such as bottled water and sun cream.
And as if that wasn't enough, the store has replaced the 'O' on their store sign with – you guessed it – a tennis ball.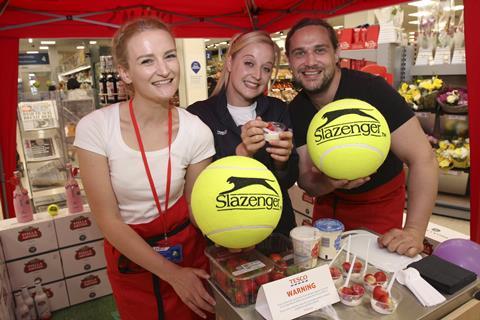 Clothing stores look to mirror customer confidence
Hammerson shopping centres are trying something new to boost the confidence of their shoppers.
Around a third of the fashion retailers in the Birmingham, Bristol and Croydon shopping centres have decided to cover their changing room mirrors with black paper to make shoppers feel more confident in the clothes they are wearing.
But there's method to the property developer's apparent madness. A survey that preceded the trial showed that 71% of British women do not feel confident enough to buy a new outfit after trying it on in front of the mirror.
Shoppers can now buy outfits in blissful ignorance and with a confidence that Hammerson hopes will translate to more sales.
Two wine titans team up to offer Formula One experience
UK wine retailer Majestic and Argentinian sparkling wine brand Chandon have teamed up to offer a Formula One experience to the wine merchant's customers.
Chandon selected the British retailer as partner for the race weekend from July 8 at Silverstone.
Majestic customers can toast the McLaren-Honda F1 team with Chandon staff at the St John's Wood store on July 2 and 3, and can have their picture taken with the 2016 McLaren-Honda F1 race car. Hopefully it will be gentle quaff of the sparkling stuff rather than the racing "Go! Go! Go!" of infamous racing commentator Murray Walker.