Teething problems for Amazon's fresh offer, a very digestible display in Shoreditch and Costco starts selling coffins in Australia.
The price is wrong at Amazon
Grocers are struggling to make their online propositions as profitable as their bricks-and-mortar operations, but etail giant Amazon may have accidentally stumbled across a novel solution.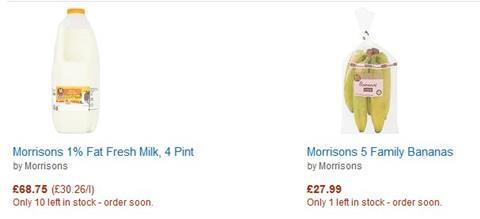 The online titan appeared to kick-start its partnership with Morrisons this week as a host of fresh grocery ranges supplied by the supermarket giant appeared on its website – but a clutch of items were listed with inflated prices.
A five-pack of bananas appeared for £27.99, while a four-pint carton of 1% milk was offered for a whopping £68.75.
That's one way to boost under-pressure margins – but how much of the cut would milk farmers be given?
Costco does a dead good deal
Costco's Australian stores are bringing a whole new meaning to the phrase 'death of the high street'.
The supermarket giant has started selling burial caskets and coffins in its stores Down Under.
Priced between £183 and £1,939, the caskets have been added to Costco's Australian product offer after selling well Stateside.
Costco's local general manager Patrick Noone said: "We're always looking for business we can leverage here in Australia, and we took a look and thought that this market could probably do with some more competition."
It looks like the fight for sales among supermarkets isn't going to die down any time soon.
A biscuit for all occasions
Retailers are constantly striving to create innovative in-store visual merchandising – but this one really takes the biscuit.
A convenience store near Retail Week Towers hasn't crumbled under the pressure of local supermarkets. It is keeping things low-key by organising its sweet and savoury snacks into four quintessentially British categories, including 'Everyday biscuits' and 'Biscuits for meetings'.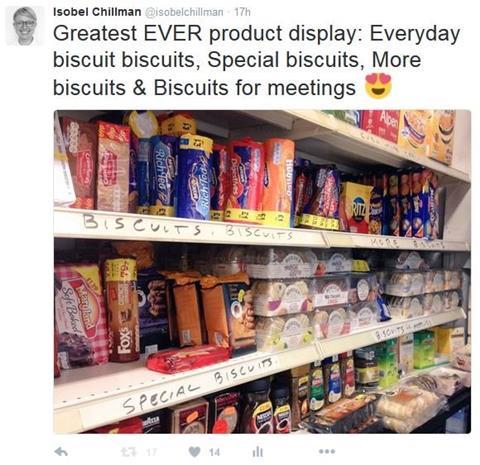 When Retail Week's Isobel Chillman complemented the display and purchased a packet of Hobnobs, the shop assistant said: "Classic. Although you're clearly not trying to impress anyone today."
The jammie dodger.