Ikea's wee discount, M&S' cauliflower steak gets the chop and Sainsbury's social media team gives Asos a run for its money.
Ikea's wee discount
The Scandi furniture retailer's latest marketing campaign has raised eyebrows and warmed the hearts of familial bargain-hunters in equal measure.
The retailer's print advert for a baby's crib doubles as a pregnancy test and invites shoppers to pee on it – yes, really – and access a slashed price if they are expecting.
Ikea says that the discounted price will only reveal itself if the shopper is pregnant and claims that the ad "can change your life as you know it".
I've no doubt that this is true whether a customer is pregnant or not. Regardless of how eager shoppers are for a discount, weeing on a magazine is unlikely to be an experience many bargain-hunters have had before.
M&S' cauliflower steak gets the chop
M&S has stopped selling its controversial cauliflower 'steaks' after general outrage greeted its latest venture.
The upmarket grocer was attempting to flog the vegetable as a healthy vegetarian option, but shoppers reacted angrily to the inflated £2.50 price tag.
The package also contained a sachet of lemon and herb drizzle but, per gram, was ten times more expensive than M&S' usual asking price.
The backlash caused M&S to remove the product from shelves – clearly a case of collywobbles.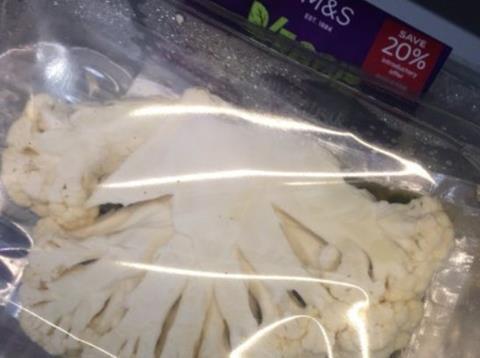 Sainsbury's wears it with pride
The ongoing battle for "quirkiest retailer social media team" has seriously ramped up in recent months, and Sainsbury's upped its game over Christmas.
The grocer, with its distinctive burgundy and orange coloured uniform fleece, spotted a very similar item of Puma-branded clothing for sale at £70 on Asos.com, and its social media gurus fashioned their own take on it.
Move aside lewd Poundland elves. Sainsbury's tweet – with staff modelling the fleece in the style of Asos – went viral.