Retail Diary: Iceland hits the road to hire Tesco and Morrisons staff, the Co-op spooks customers and Aldi provides an inspiraton for West Ham United Football Club.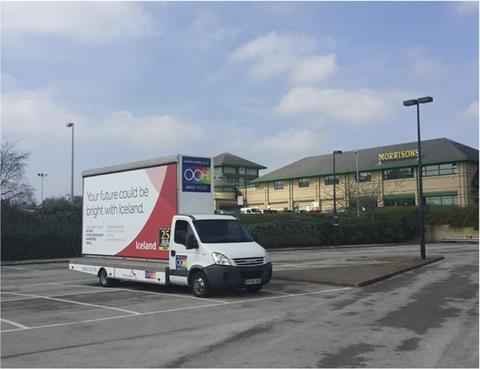 Iceland's warm heart
Iceland took its recruitment process on the road with a tongue-in-cheek attempt at luring staff from rival grocers Tesco and Morrisons.
A branded Iceland vehicle bearing the statement: "Your future could be bright with Iceland" travelled to both of the supermarket giants' head offices.
The move came after Tesco revealed plans to close its Cheshunt headquarters, while Morrisons is in consultation with head office staff over plans to axe 720 roles. We imagine the Iceland van was given the cold shoulder.
Bring up the bodies
The Co-operative Funeralcare's promotional efforts at a popular retail destination caught the eye of shoppers for the wrong reasons.
As staff manning the stall at the Belfry Shopping Centre in Redhill, Surrey, took a hard-earned break, their table was covered over using a large white sheet.
But the items of stationery underneath the cover gave the unfortunate illusion of a dead body lying on the table. The photograph attracted plenty of attention after being uploaded on social media. Let's hope there's a bit more life left in the business than its stall would suggest.
Aldi's forever blowing bubbles
Discount duo Aldi and Lidl are climbing the grocery standings in terms of market share – now they've been compared with a sporting outfit concerned with a very different type of league table.
Having seen supermarket giant Tesco's profits plummet – thanks in part to fierce price competition forcing its margins down from more than 5% to just 1.07% last year – the German discounters received a rather more bizarre boost when they were compared to Premier League Football Club West Ham United.
An article in the London Evening Standard claimed the East London club were "the Aldi and Lidl of English football" after vice-chairman Karren Brady pledged to slash the price of season tickets in a bid to steal fans from the "Sainsbury's and Asda" of the football world, Arsenal and Chelsea.
Could it mark the kick-off of another price war?