Aldi's Kevin the Carrot finds love on dating app Happn, an Asda store won't sell kiwi fruit to under-25s and M&S' Christmas advert takes an unlikely twist.
Kevin the Carrot finds romance on Happn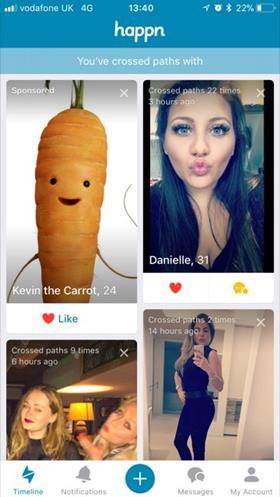 Unlucky in love? Still looking for a healthy, colourful man to walk you down the produce aisle?
Look no further – Aldi's 2016 Christmas hero Kevin the Carrot is back.
The discounter's self-styled 'three-inch friend' may have Katie by his side in this year's adverts, but that hasn't stopped him playing the dating game.
As part of Aldi's social media campaign, Kevin took to dating app Happn in search of a female friend.
Kevin's profile describes himself as a "vegetarian" and a "film buff".
And he jokes: "Enjoys exciting train journeys. Every date with me will be amazing. No rabbits."
After that promise, we're sure many will want a slice of Kevin.
Asda bans kiwi fruit until ripe age of 25
It may seem bananas to some, but an Asda store in Manchester temporarily banned under-25s from purchasing kiwi fruit ahead of a Harry Styles concert.
A video of the pop singer, formerly of boy band One Direction, went viral after showing Styles slipping at a gig, due to fans pelting him with the fruit while performing the song "Kiwi".
An Asda spokesperson said: "To avoid any slippery situations, we feel this is a necessary measure."
M&S' Christmas ad blooper
The hotly anticipated M&S Christmas advert starring Paddington Bear was launched last week with all the bells and whistles (and marmalade) one could wish for.
The high-spec animation takes viewers on a festive and joyous rooftop adventure with the much-loved bear.
However, the advert's conclusion has prompted an unexpected discussion on social media.
At the ad's denouement, Paddington kindly hands the man he believes to be Father Christmas a customary marmalade sandwich, but there has been some confusion about what he says in response.
The line is, of course, "thank you little bear", although the sharp-eared twitterati insist it sounds like an expletive and somewhat upsetting sign off instead.
Take a listen and decide for yourself.