Booths staff get fruity at store opening, Amazon shoppers pick up one-cent wonders on Prime Day and ghost supermarket baffles French shoppers.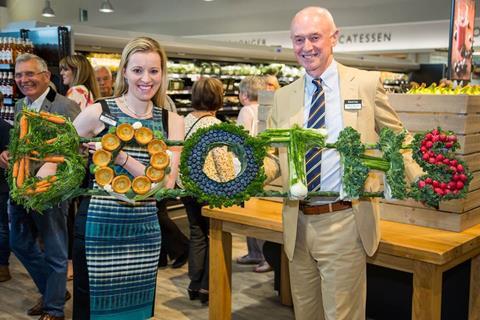 Booths gets fruity as new store opens
Bosses at upmarket northern grocer Booths got a bit fruity at the opening of their newest store.
Chairman Edwin Booth and director of marketing Julie Mills proudly held up a colourful fruit and vegetable sculpture spelling out the chain's famous name to mark the opening of the 30,000 sq ft store in Burscough, Lancashire.
The artwork was created using more than 30kg of fresh rhubarb, cabbages, leeks, spring onions, carrots, radishes, kale, lemons, celery, runner beans, fennel, fresh herbs and berries.
Let's hope the store itself turns out to be a top banana rather than a bad apple.
Shoppers pick up one cent wonders on Amazon Prime Day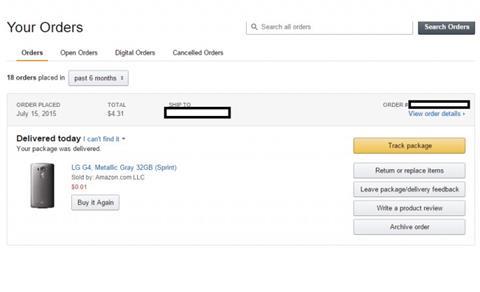 Shoppers took to social media in their droves on Wednesday to voice their disappointment at Amazon Prime Day – but some eagle-eyed bargain-hunters netted themselves a real steal.
That's because an error from the US etail giant meant that the LG G4 smartphone, which usually retails for $599 (£384), went on sale for just one cent apiece.
The price only lasted for a brief period before Amazon corrected their mistake, but it wasn't quick enough to stop shoppers rushing to snap up the phones so quickly that they sold out.
Many orders were cancelled, but some lucky users received their new phones at the knockdown price. They must have been 'appy with that.
Ghost supermarket leaves French shoppers baffled
A number of UK grocers have been focusing on increasing the numbers of customer-facing staff in stores, but one supermarket in France inadvertently employed the entirely opposite tactic.
Shoppers were left completely alone in the Simply Market store in Lesquin after all the staff went home – and forgot to turn off the lights or shut up shop.
The supermarket was supposed to close for business at 1pm in honour of Bastille Day, a public holiday in France, but the last worker to leave forgot to lock up.
Dozens of shoppers filled their baskets as normal and didn't realise there were no staff until they reached the line of unmanned checkouts.
Instead of helping themselves to a free lunch, shoppers called the police, who said there were no signs of theft or damage. French fancy that.