Amazon's much-speculated drive to bring its Fresh grocery proposition to the UK has moved a step closer after it leased an ex-Tesco warehouse.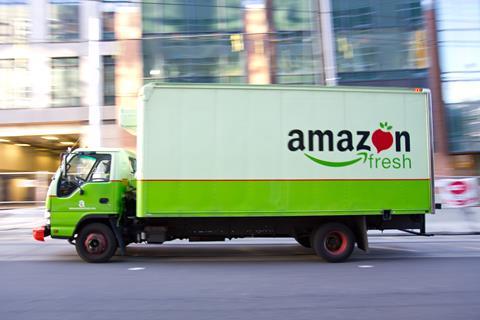 While questions remain over how the US etail giant will operate in the UK, what areas of the country it will launch in, the proposition it will offer and the target customer it will seek to pursue, we spoke to Forrester Research ecommerce expert Sucharita Mulpuru to discover more about how Amazon Fresh is faring in its homeland.
What US cities is Amazon present in?
It is only present in a few cities at the moment – Seattle, San Francisco, Los Angeles, New York City, San Diego and Philadelphia, although I haven't heard much about the latter two launches. There was anticipation that it would be present in 50 US cities by now. Obviously that hasn't happened.
How successful has Amazon Fresh been so far?
It's hard to tell, but it certainly hasn't been a super-fast roll-out. Delivery of fresh and perishable food is very challenging and very expensive in the US. The service has obviously not hit a home run, otherwise I expect Amazon would have rolled it out much faster to more cities by now. But Amazon needs grocery in order to achieve the top-line growth it needs to continue maintaining interest in its business. The challenge is how it can grow the Fresh business without losing too much in the process.
What is its price point like on groceries and how does that compare to rivals like Walmart?
I don't think Amazon's offering is competitive with Walmart. Amazon is more competitive with Fresh Direct, Seamless/Grubhub and your local grocery stores like Safeway or even a Whole Foods. But the annual $299 (£191.30) price tag makes it not necessarily that compelling price-wise for customers.
What are Amazon Fresh's main unique selling points?
Assortment is the main one, I suppose, as well as the ability to get everything in one basket and the ability to reorder regular staple items easily. So they are all very similar to the things that a company like Ocado already offers in the UK. There is also some integration to the Amazon Dash device, which most customers don't already own.
Who is its target customer?
Affluent, busy professionals and mothers.
What is the Amazon Fresh own-label range like?
Relatively little in grocery. It has its own organic products and some Amazon core products, in addition to traditional grocery goods.
How big is its share of the US grocery market?
About 5% of US online shoppers say they belong to Amazon Fresh. [The US online grocery market is currently worth $7bn (£4.48bn) and is expected to be worth $18bn (£11.52bn) by 2020.]
What does it currently make in sales?
It's hard to say. The engagement with Amazon Fresh doesn't seem to be that much greater than it is with Amazon Prime at the moment. It seems to be making its greatest revenue on the breakage of customers who join and pay the $299 fee to do so, but then don't actually purchase that much.