Tesco chief executive Philip Clarke has nailed his colours to the mast with the launch of a strategic review of the retailer's loss-making US business, Fresh & Easy, and the departure of highly regarded deputy chief executive Tim Mason.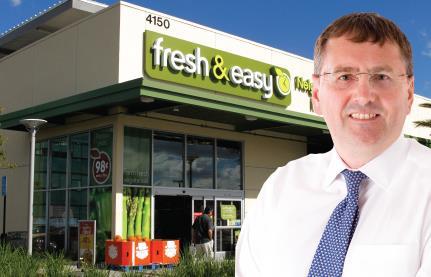 Clarke, who said the review was likely to lead to Tesco's exit from the US, said Fresh & Easy's "journey to scale and acceptable returns will take too long". Investment bank Greenhill has been appointed to review options, including a sale.
The likely US exit will see Clarke wash his hands of a £1bn venture undertaken by his predecessor Sir Terry Leahy and allow him to focus on restoring the UK business and driving global and digital growth.
The departure of Mason, who was also US boss and group chief marketing officer, also marks a near clean-out of Leahy's boardroom, including the departure of Tesco UK boss Richard Brasher last spring.
Chief financial officer Laurie McIlwee, who will lead the Fresh & Easy review, is the only remaining board member from the old guard. Executive director Lucy Neville-Rolfe is due to leave in January.
Clarke said Mason, a 30-year Tesco veteran, was "not the right person to lead the review" and he wanted "a fresh pair of eyes".
He said that, while several long-standing board members have left, Tesco is "renowned for developing top talent" and he has a "formidable" executive committee.
Oriel Securities analyst Jonathan Pritchard said that while it was "disappointing" that Mason's talent could not have been retained in marketing, Clarke has "brought in a lot of people. It is fair play if he wants to be the new broom".
Shore Capital analyst Clive Black called the Fresh & Easy review "one of the most high-profile and perhaps defining moments" of Clarke's tenure and follows tough decisions such as the exit from Japan.
Clarke said he has visited Fresh & Easy 10 times over the past 18 months and "doesn't think there is any more we could have done" with the business.
US like-for-likes dropped to growth of 1.8% in the third quarter from 6.9% in the second quarter.
Pritchard added that the UK business is showing early signs of improvement, which is testament to Clarke's strategy.
In the UK, like-for-likes fell 0.6% in the third quarter, but food like-for-likes were up 1.2%. Pritchard said it appears that "some of the medicine is working" in the core UK food business.
However, general merchandise struggled. Electricals reported double-digit negative like-for-likes, but clothing was strong, up 3% on a like-for-like basis.