The People's Supermarket is considering a new business model to ensure its survival as its sole London store faces closure.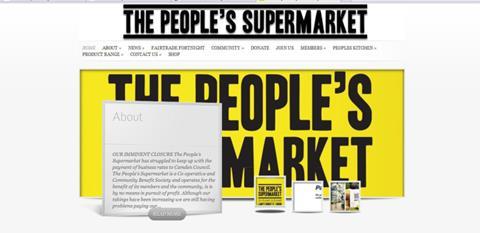 The worker's co-operative faces a court hearing on March 15 after it was hit by a final demand for payment of £20,000 in rates for 2011/12 from Camden council. If it is unable to pay the rates it will face closure.
The People's Supermarket is due to hold a crisis committee meeting to discuss the store's future today.
Chief executive Kate Bull said the retailer would have to become a charity or a "hard-nosed, commercial retailer" for its flagship Bloomsbury store to survive.
She said: "We are trying to create a new economic model but as pioneers of a new economy we are finding problems."
The People's Supermarket has a network of 1,000 volunteers who receive a 20% discount on purchases and work four hours in the store each week. Its model has generated widespread publicity and was the subject of a TV documentary in 2010 when it launched.
If the store became a charity Bull hopes it would have access to rate relief in new stores. Bull said if it were a traditional retailer it could "use the The People's Supermarket brand to make money".