It would have been almost unthinkable to say so a year ago, but Morrisons is not only back in fashion, but setting trends in UK grocery.
The supermarket giant is on a roll under the discerning duo of David Potts and Trevor Strain – and next Thursday's full-year results announcement will provide a prime opportunity for them to parade the fruits of their turnaround plan on the City catwalk.
This week's news that Morrisons is expanding its clothing proposition into womenswear served as a timely microcosm of its ongoing transformation.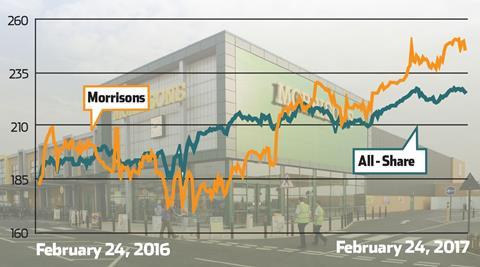 The grocer's Nutmeg apparel label may have only launched four years ago, but it has already muscled its way into in the UK's top 20 fashion brands and is now eyeing sales growth from new avenues.
Establishing such fresh revenue streams is becoming an increasingly consistent theme of Potts's tenure.
Morrisons has already expanded its partnership with Ocado in order to open up its online grocery offer to households nationwide, while its supply deal with etail titan Amazon has seen it leverage its vertically integrated model to increase its business as a wholesaler.
So concerned by that move are the big four, it seems, that Tesco followed Morrisons' lead, bidding to enhance its supply business by striking a £3.7bn deal to acquire Booker.
But tie-ups with Ocado and Amazon are far from the only weapons in Morrisons' armoury.
'Best-positioned' grocer
Potts and Co. have also overseen investments into sharpening prices, revamping its own-label ranges, improving customer service in stores and refurbishing supermarkets, with around a third of its 498 stores being given a "fresh look" over the past 18 months.
Those ingredients have proved a recipe for success. Like-for-like sales climbed 1.4% during Morrisons' first half, with a 2% jump forecast for the six months to January 29 following a consensus-busting Christmas performance, when same-store sales surged 2.9% in the nine weeks to January 1.
Full-year profits are forecast to come in around the £335m-mark – a figure that would represent a 54.4% spike year-on-year.
It's therefore easy to see why Morrisons' house broker Jefferies labels the Bradford-based retailer the "best-positioned UK grocer".
While that statement is certainly debatable following Sainsbury's acquisition of Argos and Tesco's ongoing revival, there is no disputing the strides Morrisons has made over the past 12 months.
"Potts and Strain have kitted Morrisons out not only to weather the storm, but become an unlikely model to follow"
A cursory glance at its share price illustrates the scale of the supermarket giant's wide-ranging progress.
On the morning of its last full-year results announcement, investors could snap up a slice of the business for 192.9p per share.
Now, Morrisons admirers will need to shell out a sum closer to the 245p mark – some 27% more than this time 12 months ago.
There is no question that further turbulent times lie ahead for the business as the national living wage increases, Britain exits the European Union, the discounters step up their assault on the UK market and shopper habits continue to evolve.
But as next week will prove, Potts and Strain have kitted Morrisons out not only to weather that storm, but become an unlikely model to follow.