Speculation that Asda is mulling a £4.4bn takeover of general merchandise giant B&M made a splash in the press last weekend.
But talk of the grand purchase was quickly downplayed. Asda sources reportedly denied it, saying it had undertaken straightforward competitor analysis, which did not represent the start of an acquisition process.
News of a possible deal also came as a surprise to B&M chiefs, Retail Week understands.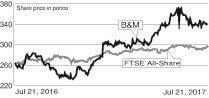 The value retailer's share price rose 5% after the report emerged, but retail analyst Nick Bubb said it would have been a bigger rise if a deal was really thought to be in the offing.
However, the idea caught the City's attention at what is a time of radical transformation and diversification in the grocery sector.
Walmart-owned Asda, which has suffered 11 consecutive quarters of like-for-like decline, has sat by and watched rivals Sainsbury's acquire Argos and Tesco pursue a merger with Booker.
It has also failed to cash in on consumers' demand for convenience, been pummelled by the fast growth of discounters Aldi and Lidl, and fallen behind in its online fulfilment capabilities.
For those reasons, speculation of some sort of deal to revive Asda's fortunes comes as no surprise. Boss Sean Clarke has certainly got to do something to bring Asda in line with its front-footed rivals.
But would B&M be the best choice?
Why B&M?
The 540-superstore retailer – now one of Asda's biggest competitors – is riding the wave of discounter dominance.
Two weeks ago, B&M said sales had rocketed and boss Simon Arora observed that uncertainty and inflation were causing shoppers to actively seek out value.
So if Asda was eyeing up B&M, it would certainly be playing the magpie – drawn to one of the shiniest objects out there.
However, would it solve Asda's fundamental problems?
A poor fit
According to Planet Retail senior editor Howard Lake, the speculation appears "somewhat far-fetched".
"For one, it's hard to see how buying B&M would fit in with Walmart's strategy. Bricks-and-mortar acquisitions run counter to Walmart's present strategy of building out its online offer," Lake says.
"Shifting general merchandise sales from Asda hypermarkets would create an even bigger problem of how to utilise the vacant space"

Howard Lake, Planet Retail
He counters the belief too that B&M could function as an additional outlet for Asda's general merchandise or clothing offers.
"Shifting general merchandise sales from Asda hypermarkets would create an even bigger problem of how to utilise the vacant space."
It is also unclear how much of a leg-up the out-of-town variety retailer would give Asda, which already has a large network of big-box stores.
"While B&M does have a few high-street sites, much of the estate is located in retail parks," Lake says, adding that one of the grocer's main problems is an overdependence on big-box stores and a failure to tap into the trend toward convenience in the UK.
Asda has attempted to move into the forecourt and small-box space, but beyond a few trials in the past couple of years, it has not yet made a major push in this direction.
"Moreover, many B&M outlets are in proximity to Asda stores, especially in northern England, so cannibalisation would also be an issue," Lake says.
So, whereas Sainsbury's and Tesco's M&A moves were aimed at specifically bolstering their respective digital and wholesale elements to reach new customers, an acquisition of B&M by Asda wouldn't help the grocer strengthen its weak spots.
If Asda wanted to plug a high-street gap, wouldn't it be better off targeting the likes of Poundland or Wilko?
Having been recently acquired by Steinhoff, Poundland is not likely ripe for the plucking, but if Asda is looking to load up its shopping trolley, a high-street stalwart with a burgeoning ecommerce business would probably be a better purchase.
Whatever Asda does, it should get on with it quickly in order to restore its fortunes in a changing retail environment.