In a bid to convince this was a 'merger' not a takeover, Tesco and Booker's bosses studiously took it in turns to speak during today's press conference.
It smacked of an effort to show that the £3.7bn deal is about two parties coming together, instead of one dominant player calling the shots.
It reminded me a bit of David Cameron and Nick Clegg's famous coalition love-in in 10 Downing Street's back garden.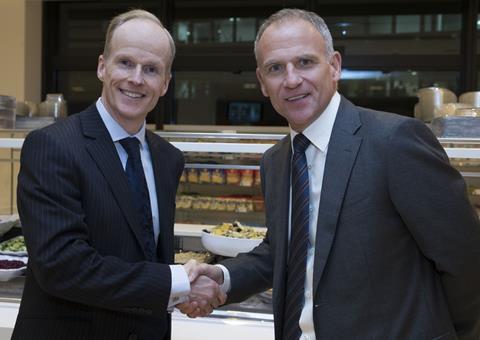 Today's setting was similarly grand in JP Morgan's London offices on the banks of the River Thames.
Tesco chief executive Dave Lewis and Booker supremo Charles Wilson seem to enjoy the same easy-going camaraderie as the two politicians, judging by the body language.
But I'm sure that is where they hope the comparisons will end.
Perhaps they had an extra spring in their step as the City cheered the deal, bringing a healthy spike in both firms' share prices.
Lewis and Wilson already know each other well, and relations will be helped by the fact that Booker's boss and its chairman Stewart Gilliland will join the combined group's board.
Lewis talked of the opportunity to create "the UK's leading food business", while Wilson boasted of the restaurant chains it supplies, such as Wagamama, Rick Stein and Byron.
Just as it did in the Downing Street garden back in 2010, all seemed rosy. But there are a few flies in Tesco and Booker's ointment.
The notoriously obtuse Competition and Markets Authority (CMA) will probe the tie-up, and there is no knowing how long this will take. As analyst Peel Hunt suggested, the authorities will undoubtedly "crawl all over the deal".
If the probe into Poundland's swoop for 99p Stores is anything to go by – which left former boss Jim McCarthy extremely bitter – we could be in it for the long haul.
Lewis raised a wry smile when I asked him about the prospect of CMA scrutiny, but said he didn't want to predict the outcome.
Earlier though, he highlighted that this is "not an acquisition of stores", but a wholesale business.
Indeed, Wilson flagged that Booker only actually operates a handful of the thousands of convenience stores it supplies.
And not everyone is a believer in the deal. Today we discovered why Tesco's senior non-executive director Richard Cousins mysteriously quit in January. He was not convinced by the acquisition.
As a relaxed Lewis admitted today as he fended off some tricky questions: "He didn't feel it was something he supported".
His mettle may be tested in dealing with the CMA, but clearly Lewis believes it is a prize worth fighting for to compete in the fast-evolving UK food market.