When ex-Morrisons chairman Sir Ken lambasted former boss Dalton Philips for the state of the business in 2014, it rightly grabbed headlines.
Sir Ken Morrison, the son of founder William Morrison – and the chief architect of the business as we know it – wasn't happy.
The fact he attended the AGM and stood up to speak was akin to former Manchester United boss Sir Alex Ferguson attending more and more of the clubs games as his successor David Moyes struggled.
Sir Ken is a hard man to please, but David Potts and the wider team at Morrisons are doing a great job in achieving exactly that with another set of solid results today.
Growth in profits, an increase in customer count and a 2% increase in like-for-like sales would have been a respectable result even in the golden days, but is even more noteworthy given the excitement a 0.1% uplift in like-for-likes was greeted with during the fourth quarter of last year.
"There remains a lot of work to do. Morrisons is still in phase one of three in its turnaround plan, and the market remains very competitive"
While the half year represents good progress, a third consecutive quarter of sales growth is as much about the sharpening of its own operation as it is about any struggles across the water in Leeds, or indeed a slowdown in sales at Aldi.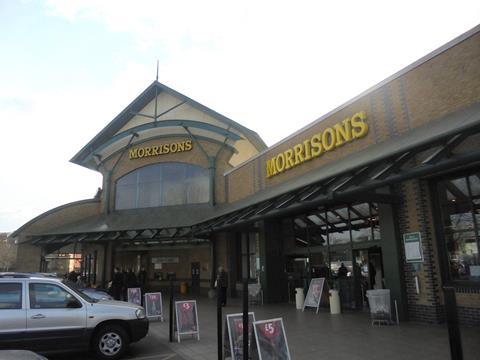 As Philips strategised and tried to move the business away from a reliance on large stores, the core business suffered as the best people were borrowed to aid online and convenience.
The offer didn't resonate with customers and campaigns like 'I'm Cheaper' were good but didn't continue with sufficient throughput.
Change of tactic
Then the 'Match & More' loyalty scheme landed, but the price matching mechanic, rewards and a lack of communication and understanding about where points were coming from and how they were calculated, made it both a confusing and expensive venture.
Potts has reset much of the core business in his first 18 months at the helm.
He has got the basics right. Supermarkets are sharpening up all the time and the 'Fresh Look' programme means refits are the order of the day.
Older stores are being revamped, while newer stores receive new services, such as hot coffee machines and an enhanced food to go offer.
Other initiatives are being rolled out too. Morrisons's ordering moves the stores away from the order pad and into an automated world, with huge savings and crucially, better availability.
Switching to the More card – offering loyalty points only rather than expensive and confusing price matching – was smart and the 'Morrisons Makes It' campaign has been a great success.
Finally, someone has managed to communicate Morrisons's unique in-store preparation and production processes, and package it in a way that doesn't look expensive.
Price Crunch, its rolling programme of price cuts, means the grocer is also becoming really competitive at the shelf edge, while own-label improvements like bringing back 'The Best' further enhances the proposition.
This provides a premium label that means something to customers – unlike Signature – and looks great on shelf in the categories launched so far.
Still to come
There remains a lot of work to do. Morrisons is still in phase one of three in its turnaround plan, and the market remains very competitive.
Not only do they have competitors snapping at their heels – notably Walmart-owned Asda's potential recovery under new boss Sean Clarke – there's also Sir Ken himself.
He noted this week that while he feels Potts is "doing well", there is "still a lot of room for improvement".
But the rate of progress over the past 18 months means there is no danger of 'Fergie' popping up at the AGM, with Potts looking more like Pep Guardiola than David Moyes as Morrisons continues to concoct a winning formula.