The online grocer and tech specialist's chief executive Tim Steiner has proved many a doubter wrong since founding the business in 2000.
After taking 15 years to turn its first pre-tax profit and initially struggling to license its Smart Platform to international grocers, Ocado eventually made a breakthrough in 2017, revealing details of a deal with French outfit Casino.
The flames had taken hold, causing far more devastation – both to the Andover site and Ocado's share price – than had been anticipated
Then last year, Ocado penned deals with Canadian grocer Sobeys and US giant Kroger – both of which were helped over the line by Ocado's ability to show off its latest technology in action at the new Andover customer fulfilment centre (CFC).
Ironically, a blaze at that very Hampshire warehouse precipitated a slump in Ocado's share price this week – and in a worst-case scenario could throw those deals into doubt.
Spooked investors
The fire was already burning early on Tuesday morning as Steiner and his finance boss Duncan Tatton-Brown unveiled Ocado's results to the City.
Initially, it seemed the blaze, which is thought to have started in a section of the warehouse's ambient grid, had been contained.
But by Wednesday evening, the flames had taken hold, causing far more devastation – both to the Andover site and Ocado's share price – than had been anticipated the previous day.
Having initially rallied to 1,040p following its prelims, Ocado's shares lost almost a fifth of their value by early Thursday afternoon, nosediving to 852.6p.
The impact on Ocado's own grocery business is manageable. Andover accounts for around 10% of its orders, roughly 30,000 baskets per week.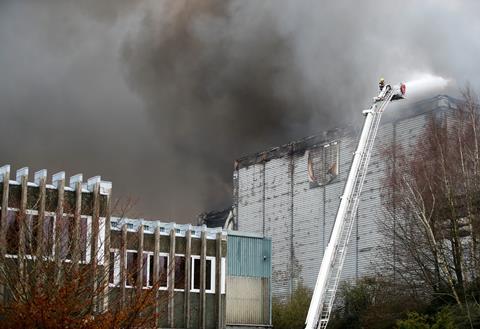 But its fourth warehouse in Erith, along with its two older sites in Hatfield and Dordon, have the spare capacity to shoulder the bulk of that logistical burden.
It is the potential impact on the Ocado Solutions division – the part of the business tasked with selling its proprietary technology – that is likely to have spooked investors.
Bernstein analyst Bruno Monteyne maintains, however, that Ocado's slump in value "seems like a massive overreaction".
"We see no reason yet to consider this a major setback for the Ocado technology business," he says.
Peel Hunt's James Lockyer agrees: "With a supportive shareholder base, Ocado must now take the findings of the investigation into those events and supercharge its operation."
'Not meant for humans'
A penny, though, for the thoughts of executives at Kroger, Sobeys and Casino. What impact, if any, will the fire have on the deals they have done with Ocado?
What will it mean for Steiner's dream to secure more partners and "pepper the globe" with its high-tech CFCs?
It is not yet clear whether the fire was started by one of Ocado's newest robots, an older iteration of its technology or something else entirely.
But either way, the words of Hampshire Fire and Rescue Service chief Neil Odin will surely be ringing in the ears of current and potential partners.
"This building is not meant for humans to be interacting with the racking and the storage," Odin told the BBC.
"Firefighters trying to get in that high and make an effective firefighting strategy has been very difficult."
Looking vulnerable
Those doing business with Ocado will want assurances over such health and safety concerns and procedures in the event of similar emergencies in future.
Could partners such a Kroger even seek to renegotiate their contracts with Ocado to provide break clauses or financial compensation in the event of such a disaster, should such wording not already exist?
Monteyne may assert that the tumble in Ocado's value to date is a "massive overreaction". But it is worth remembering that details of the Kroger deal last May caused the etailer's share price to almost double, propelling it into the FTSE100.
Steiner and co have some serious firefighting of their own to do to keep their Ocado dream on track
Imagine, for a moment, that Kroger was to pull the plug in the wake of the blaze. Suddenly, Ocado's 18% share price fall could look like a drop in the proverbial ocean.
Right now, Ocado's stock looks vulnerable. As details of the exact cause of the fire become clear, such fears in the market will hopefully be laid to rest.
But until that point – and indeed beyond – Steiner and co have some serious firefighting of their own to do among their spooked investor and customer bases in order to keep their Ocado dream on track.