Ah, Aldi, the simple discounter that rocked up on the UK's shores in the late 2000s and immediately started taking share left, right and centre.
Except that's not the whole picture, of course. We know Aldi was here long before these boom times – it landed in the UK in 1990.
It's been a bit like Chelsea pre-Mourinho 2004 – barely noted, almost hiding in plain sight, then suddenly everyone was a fan.
The global credit crunch and lurch in and out of recession saw discounters become incredibly popular incredibly quickly, and their blend of stable low prices and high product quality became a firm favourite.
Aldi didn't change its operating model though. Rather, the customers came around to it while the larger retailers were resting on their laurels for too long in terms of changing the promotional mix, spending margin and following the public.
Its turnover alone, rising from £2.7bn in 2011 to £7.7bn today, shows how its growth has been off the scale and unlike anything we have seen before in the market. Aldi grew sales by 40% from 2011 to 2012, for example.
Are stores justifying their place?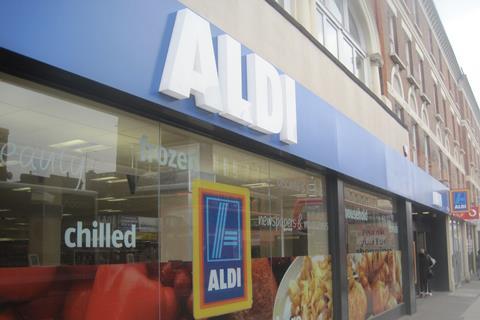 Aldi boasted an 11.8% turnover growth year-on-year in its update yesterday, but the headline news of course is around profits – they're down again. Store openings remain constant, but are all the stores justifying their place?
Profits are down around 6% over the past two years, but sales have increased by 46% in the same period, according to Barclays.
The operating efficiencies are not being felt as they should be, with its infinite loop of higher volumes and restricted ranges, thus lower prices.
Why is this?
Big four back in growth
Well, we know that the 'big four' have swung the pendulum and started growing again: both Morrisons and Tesco are growing their like-for-like sales and, while Asda has struggled, it's competed on price recently. Aldi has had to react accordingly.
The market forces are clearly impacting Aldi.
Tesco Farm brands is another reason for slowing growth. With the slowdown in new space from the big four, it's clear they're now spending their budgets on refits, likely targeting their stores that have a discounter nearby.
A newer, fresher Tesco always brings crowds back, and it is in a better place to retain that custom with its work over the past two years or so.
But what about the Aldi 'sphere of influence?'
"£5.99 for Gold Blend coffee – hardly representative of Aldi, not when its own 'brand equivalent' coffee is about £2"
The German retailer has its own destiny in its hands, and its push into premium has been noted and appreciated by customers given the high quality but lower prices than comparative ranges. But how much is too much?
Virtually every new line in fresh is premium at Aldi; dough balls, fougasse bread and four different flavours of sausage roll all point to a retailer trying to grow basket spend without fully grasping its own discount model.
Similarly, in ambient; a plethora of brands have arrived across the store: £5.99 for Gold Blend coffee – hardly representative of Aldi, not when its own 'brand equivalent' coffee is about £2.
Family draw
These changes have meant Aldi is considered a 'typical' supermarket by many customers, with growth in categories such as baby notable.
Families are crucial for every grocer and very much anyone's target market given their long-term loyalty potential. This is where Aldi has done really well. Its baby category has been so successful that Pampers is now advertising its nappies as beating Aldi's Mamia on dry tests – amazing PR for Aldi.
But nappies are one thing, a glitzy baby display in a refitted store isn't necessarily what 'Aldi mums' want.
News of spending on refitted stores is notable, and "£300m" headlines are always eye-catching, but it's highly unlikely 100 stores will have £3m spent purely on aesthetics. How much will be spent in expanding these stores to cope with increased footfall, or reworking the car park?
While we can talk about the larger retailers in growth, the Aldi ambition around refits and work on baby and produce is clearly designed to curb the growth at Lidl.
Aldi's rival, with its new-format store, is putting together a package of 'premium discount' in a shop that truly feels like a supermarket.
How long will the Aldi group tolerate reduced profits with this exponential growth pattern? Sales growth is one thing, but profit growth is another matter entirely.