Sir Stelios Haji-Ioannou has certainly drummed up plenty of attention with his tentative foray into the world of grocery retailing.
The easyJet founder has finally spread his wings into the industry after waiting years for his latest business proposal to take off.
His initial plans to launch in Croydon two and a half years ago were scuppered when the council refused to grant him planning permission for the first easyFoodstore.
But after using the site to create a mock store instead – visited only by small focus groups and a select number of retail analysts – Haji-Ioannou has used those valuable insights to open a pilot store in Northwest London.
It was hard to know what to expect from easyFoodstore – its website promises "no expensive brands, just food honestly priced", with little in the way of imagery to show off what the shop had to offer.
Housed in the same building as the easyBus depot, it would be easy to dismiss it from the outside as nothing more than a clever but temporary way of utilising excess space – a subject Haji-Ioannou's new supermarket competitors are already well-versed in.
Efficiency over experience
But once inside, it's apparent that space here is very much at a premium. A range of 76 products has been efficiently crammed into six narrow aisles, with just one small checkout serving customers at the front of the store.
If you're looking for a pleasurable shopping experience, look elsewhere. There is barely room for one person to walk between the aisles, let alone a trolley or a pushchair, the signage is basic, the walls and flooring are dull and the shelving makes you feel like you have somehow conspired to get lost during the short walk from the entrance and find your way into the stockroom.
As one eloquent Twitter user so bluntly put it: "it looks like Soviet Russia."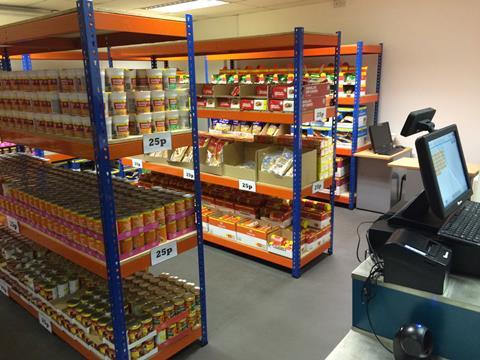 And if, like me, your visit coincides with a family of four spending a grand total of £27 on 108 items, you'll find yourself queuing a while to be served.
But let's face it, no one will be coming to easyFoodstore for the store experience. They will venture to Park Royal purely for value – and that simply cannot be knocked.
Cupboard staples like tea bags, coffee, sugar, sunflower oil, baked beans, spaghetti hoops, pasta, rice, biscuits, crisps and lemonade are on offer for just 25p a piece - and all supplied by the creditable Dutch brand Euro Shopper. Even when prices rise following February's promotional period, they will still give the discounters a run for their money.
It's easy to see why the solitary member of shop staff tells me she has been "rushed off my feet" since last week's opening, despite the glaring lack of a fresh or frozen proposition.
Humble beginnings
But from little acorns mighty oaks doth grow. The sceptics – and there are plenty of them – would do well to remember how Aldi and Lidl started life in the UK.
While I can't claim to be able to do this personally – I was a mere toddler when the discount duo were taking baby steps of their own on to these shores – I have certainly witnessed their offer evolve during the last 15 years.
The German grocers' stores have become larger, more appealing and sophisticated, mirroring the improvements made to their product propositions. Fresh produce in particular, a category that the easyFoodstore has not yet dared to enter, has improved immeasurably from its early days.
"It would be premature to dismiss this venture as nothing more than a half-hearted punt to win the affections of the bargain-hungry food shopper"

Luke Tugby
Virtually across the board, Aldi and Lidl now stock "good, better, best" ranges, a far cry from humble beginnings when simply stocking one brand of each product was the norm – a policy that easyFoodstore has adopted in its pilot store.
Admittedly, it may be stretching it somewhat to draw on such comparisons and conclude that Haji-Ioannou can replicate the same achievements of his highly successful discount peers.
But it would also be premature to dismiss his latest venture as nothing more than a half-hearted punt to win the affections of the bargain-hungry food shopper.
The discounters and established supermarket chains would be well advised to fasten their seatbelts and brace themselves for a little more turbulence.