Online grocer Ocado has reported an 11.4% jump in half-year EBITDA driven by a strong uplift in retail sales. Here is what the analysts say.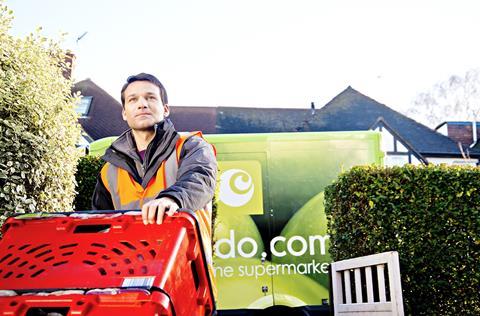 "On the trading front, Ocado continues to grow ahead of the market, although the ongoing erosion in average order size speaks to the deflation in the marketplace and smaller average purchase values from the Fetch and Sizzle specialist websites. The direction of travel for operating profitability is a satisfying development for the business and reflects the benefits of Morrisons-assisted scale and leverage set against recent increases in capacity.
"Clearly, this relatively benign update on trading will be overshadowed by the lack of concrete news on Ocado's much-vaunted first international partnership. While Ocado remains convinced its first global deal will be signed in 2015, the shortage of anything to communicate today is set to reverse some of the company's recent effervescence in terms of share price." Bryan Roberts, Kantar Retail
-
"Discussions regarding Ocado Smart Platform have 'advanced further' and management has reiterated its target of signing a deal in 2015.
"In all, an encouraging update from Ocado, demonstrating that it can continue to build its UK retail operation despite an extremely difficult trading environment, while it remains on track with its development of Ocado Smart Platform and the technology to support it.
"We leave our forecasts (including EBITDA and capex) unchanged today and continue to believe that Ocado is uniquely positioned to leverage its market-leading IP to support Ocado Retail and develop partnerships with global grocery retailers looking for the best online grocery fulfilment solution." Andrew Wade, Numis
-
"Ocado is clearly making headway towards achieving its strategic objective of constantly improving its proposition to customers. It has broadened its offer to 45,000 SKUs, bolstered by its fetch.co.uk pets arm and sizzle.co.uk kitchen and dining business, and has launched a number of incentives to capture new customers, including the latest 'share £40 in vouchers' recommendation initiative, which encourages its existing customers to invite family and friends to shop with the retailer.
"Reaching the dizzy heights of double digit growth in a sector dogged by intense price competition and deflationary pressures is something to be lauded, particularly in light of Tesco's recent results – the market leader posted a modest 1.3% increase in sales last week. However, Ocado is not resting on its laurels and this morning it restated its intention to sign an international partnership deal that could see the company roll out its online platform globally.
"While today's results are to be celebrated, details of key performance indicators expose evidence that there is still work to be done. Average basket value has declined 2.4% on the year to £111.68 and is lower than reported in the first quarter of this year (£114.72), indicating a concerning downward trend. Maintaining transaction values in today's grocery market is a challenge and Ocado must ensure it is driving up volumes to counteract this which, to its credit, does seem to be the case – for the moment."Sophie McCarthy, Conlumino
-
"We are encouraged by the second quarter's strong growth of 15.1% underpinned by new customers, as UK grocery competitors continue to deliver negative like-for-likes. Marked improvements in key performance indicators and Morrisons.com growth support operating margins despite the gross margin compression caused by the deflationary UK grocery market.
"We continue to believe that Ocado's superior technology offering and the structural growth of the online channel will continue to help it deliver mid-teens sales growth and support sales of its Smart Platform to store-based grocers." Rob Joyce, Goldman Sachs
-
"Ahead of today's interims the Ocado share price has had a strong run, but there is nothing overtly exciting in the results statement and Ocado have not been able to announce the much-vaunted overseas licensing deal, despite all the recent speculation, although this is still a key target for this year.
" As for the results themselves, they look much in line, with retail sales up by 15.7% in the 24 weeks to May 17th and EBITDA up by a more modest 11% to £38m, as channel shift and the leverage from the Morrisons deal offset the industry headwinds." Nick Bubb, independent analyst