Online retailer Ocado is developing robots to pick and pack groceries in a move that could reduce the reliance on staff at its warehouses.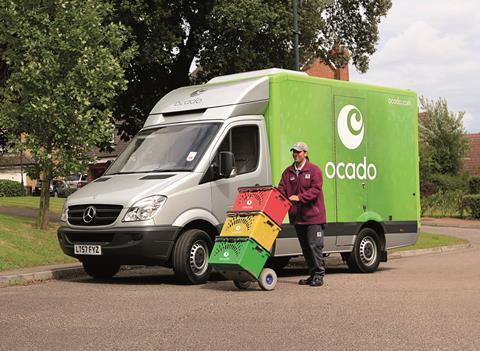 Ocado files patent for robots that pick and pack groceries
Robots would remove the need for aisles in warehouses
Investment in technology continues after reporting first profit in 15 years
In plans filed in an application to the US Patent and Trademark Office, Ocado has described new technology that uses two robots mounted on a frame above stacks of merchandise, The Guardian reported.
The robots would remove the need for aisles at Ocado's customer fulfilment centres (CFCs) that currently allow staff and machines to travel around the warehouses.
Removing the aisles would allow the online grocer to fit more goods into its CFCs, potentially improving efficiency and slashing costs.
Ocado has used technology in its warehouses for years and already uses robots in its everyday operations.
But according to Ocado's patent application, its current technology is rarely used because it requires expensive mechanisms in order to remove containers from closely aligned stacks of groceries.
It said the new system, which would use two independently operating robots, would "remove a target container quickly and with minimum use of resources".
Ocado, which delivers groceries for Waitrose and Morrisons, said: "Ocado is always looking for ways to enhance its customer proposition through the development of industry-leading and proprietary technology.
"As a result, we file a number of patents each year but we may not choose to utilise everything that we patent. As the business grows in scale, we will continue to grow our workforce with a focus on providing the best and most efficient service to our customers."
Ocado has always invested heavily in technology in a bid to drive efficiency. The online retailer reported its first full-year profit in 15 years back in February.