Ocado bosses are confident that its partnership with Morrisons will continue despite the supermarket giant's change in management.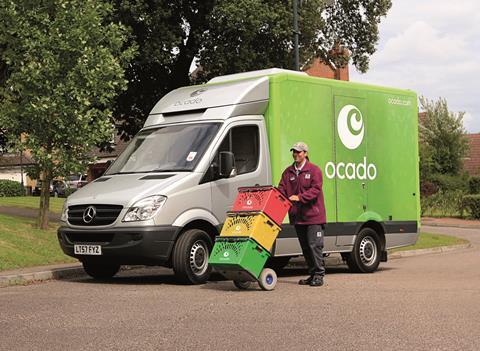 Morrisons appointed former Tesco executive David Potts as its new chief executive last month to replace Dalton Philips, the man who struck the deal to join forces with Ocado and launch Morrisons' online grocery offer.
But Ocado's chief financial officer Duncan Tatton-Brown was defiant when asked if that partnership was now under threat, dismissing the views of some analysts that Potts could seek to terminate the agreement as "nothing but speculation".
He told Retail Week: "There's been speculation in the past about our tie-up with Morrisons, but [chairman] Andy Higginson has spoken publicly on how he feels the Ocado deal was one of the best things Dalton Philips did while he was at Morrisons. They think their online offer provides an outstanding service.
"The chairman appears very happy with how it's working and we know from our private conversations we have had with Morrisons that they are very happy with how the first year has progressed.
"Clearly, we think it's doing well. It's become a £200m business a year after launching. That's got to be the fastest launch of an online business anywhere in the world and they are using the link-up with us to scale their business incredibly well.
"They are happy with the service, so from our point of view, it is nothing but speculation and we are very much looking forward to working with Morrisons in the future."
'Encouraging' growth
Tatton-Brown was speaking after Ocado revealed a 15.2% spike in retail sales for the 12 weeks to February 22, 2015. Gross retail sales, including sales through its Sizzle and Fetch etailers, jumped from £218.8m to £252m.
Group sales, which also includes fees received as part of the Morrisons partnership, jumped 19.2% during the period to £271.1m.
The figures were reported a month after Ocado revealed its first ever full-year pre-tax profit of £7.2m.
Tatton-Brown said it was "encouraging" that the online grocer had maintained the 15% sales growth it reported in its full-year figures in what he described as "quite a difficult market".
"It's a tough market out there, but our customer base is growing"

Duncan Tatton-Brown, Ocado
Tatton-Brown added: "We are encouraged that customers continue to move channels and we understand why shopping from the comfort of your sofa is appealing, in that removing the element of work is an attractive proposition.
"There is a general trend going on with more consumers in the UK looking online to do their food shopping and a specific trend with more shoppers looking at Ocado."
Increase in orders
The etailer received an average of 183,000 orders a week in the 12 weeks to February 22, up almost a fifth from 155,000 during the same period last year.
Tatton-Brown pointed to the quality of Ocado's delivery service, improvements to its website interface, "substantial" improvements to its grocery range and the introduction of PayPal as a method of payment as the main reasons behind the increased number of customers it had during the first quarter.
But average order sizes fell 2.4% from £117.53 to £114.72, something Tatton-Brown attributed to "more price reductions in the period than we would normally see" and the shopping habits of Ocado's new customers.
"It's a tough market out there, but our customer base is growing," he added.
"That growth in new customers has contributed to smaller basket sizes, because they want to try us out a bit first. So we have seen smaller basket sizes, but more customers have brought an increased overall spend."
Tatton-Brown also reaffirmed that Ocado is "actively seeking" an international partner this year, but said the etailer had "no update" to provide at this stage.