Ocado finance boss Duncan Tatton-Brown says the etailer "could not be better placed" to ride out the challenges of the grocery market.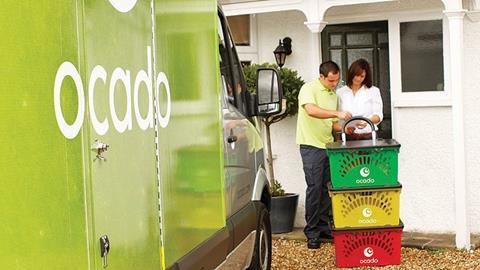 The online business warned it faced "sustained and continuing margin pressure" in a highly competitive sector, as it unveiled a 13.6% jump in third quarter retail sales.
But Tatton-Brown believes Ocado's customer service, range and the use of technology to drive efficiencies will allow it to weather the storm created by food price deflation and the rising cost of sales.
Speaking after revealing retail sales of £286.4m for the 12 weeks to August 7, Tatton-Brown said: "We could not be better placed, given the reality of channel shift that's occurring and the fact that we are a pure play retailer continuing to grow our sales and volumes strongly.
"We are confident that we will continue to grow ahead of the online grocery market and substantially ahead of the market overall, due to our continuing focus on innovation and using our world-class proprietary technology."
Tatton-Brown added: "The market is pretty competitive and we have a policy of following the major players in the market. Therefore, when market prices are down, our prices are down.
"That's not driven by lower cost of goods and the movement of the exchange rate, if anything, has had a slightly opposite effect.
"But unlike most of the market, we are growing very strongly and we are getting more efficient, so I'd much prefer to be here than anywhere else.
"If there's going to be some market pressure, we are in the best place to absorb that market pressure."
Fulfilment war
The average number of orders placed per week via the Ocado website surged 18.9% to 226,000 during the quarter – its best rate of growth in five years – despite online rival Amazon launching its Fresh grocery proposition in London during the period.
Tatton-Brown said that was "pretty clear evidence" that Amazon Fresh has had little impact on its performance, but admitted Ocado would be monitoring how the US etail titan and other competitors including Sainsbury's and Tesco push the boundaries in fulfilment.
Amazon Fresh offers same day delivery on all orders placed before 1pm, while Sainsbury's is introducing same day delivery from 30 stores by Christmas.
Tesco meanwhile has launched a same day click-and-collect grocery service as it ups its fulfilment offer, but Tatton-Brown hinted that Ocado could be about to issue a riposte of its own.
"There have been some trials or tests by other players in the market around immediacy," he said.
"We have been offering same-day deliveries for six or seven years and it's something that a few of our customers like, but it's not particularly growing in a strong way.
"We will keep an eye on what's happening in the market and we have some ideas of our own."
International partner
Ocado declined to mention any progress on an international deal within its latest trading statement, but Tatton-Brown said there was "no change to our view" that it would sign "multiple deals in the medium term."
Chief executive Tim Steiner had previously pledged to secure a deal with a grocery business in North America or Western Europe by the end of 2015, but the etailer is still yet to secure an overseas partner.
It has however penned an extended agreement with Morrisons, which will see the grocer open up its online delivery offer to the whole of the UK, while it will also take space in Ocado's new automated warehouse in Erith.