Ocado boss Tim Steiner said the grocer may not find an international partner this year, but reaffirmed his confidence that a deal will be signed.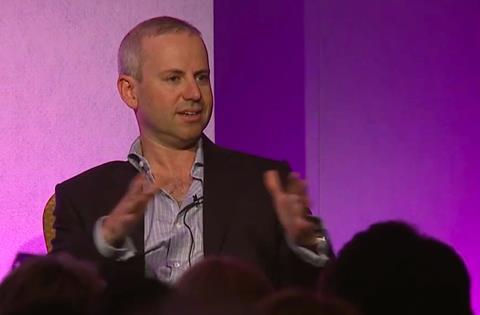 Steiner admits: "there's always a chance we won't achieve this goal"
But boss targets "dozens of deals" within 10 years
Steiner adds Ocado better placed than bricks-and-mortar rivals to increase its SKU count
Steiner told Retail Week that the etailer was "in advanced talks with a number of parties" as it bids to sign its maiden overseas deal with a retailer in North America or Western Europe.
At its full-year results in February, Ocado set a target of the end of 2015 to reach an agreement with an international partner to provide it with technological and logistical support. The grocer already has similar partnerships in the UK with Waitrose and Morrisons, helping the latter break into ecommerce in January 2014.
But Steiner has set his sights on rolling out the Ocado Smart Platform across the globe and admitted he is feeling the pressure to get a deal done before his self-imposed target.
Confident stance
Speaking as Ocado revealed an 11.4% rise in EBITA to £38.2m and a 15.7% sales uplift at its half-year results this morning, Steiner said: "We are confident. If we weren't confident, we wouldn't make the statement. It's not me saying it on the telephone as an optimistic CEO, it's a statement that's come from our board as part of a results announcement.
"Business is tough, it's aggressive. You have to set yourself goals and go for them. We've set ourselves a goal that we think we'll achieve.
"There's always a chance we won't achieve this goal, in the same way there's a chance other people won't achieve their goals. But if we weren't confident we wouldn't have repeated it in this announcement."
Steiner insisted that Ocado could have "dozens of these deals" in place across the globe within 10 years.
He added that the grocer had seen its customer base soar by 30% during its first half despite a "fiercely competitive and difficult market", driven by a relentless "focus on the customer."
Part of that strategy has seen Ocado increase its SKU count from 35,000 to 45,000 lines, at a time when grocery rivals like Tesco are undertaking range reviews.
Consumer choice
Steiner said: "Consumers love choice. If you said to a consumer 'would you like to choose from a wider selection?' the answer would be yes. But what you don't want to do is present that selection in an overwhelming way. In store it's harder to do it intelligently.
"Some of the range rationalisation that's been going on in supermarkets has been about achieving higher levels of availability on the range that you are carrying, whereas we have very high levels of availability because of the vast size of the two stores that we run."
Steiner said Ocado was "maintaining every move that the market makes" by investing "tens of millions of pounds a year" in price. He said this was partially to blame for the grocer's average order size falling from £114.43 to £111.68 during the 24 weeks ending May 17.
Steiner added that click-and-collect trials had helped it "learn about consumer behaviour", but when asked if this was a precursor to moving into bricks and mortar stores, he said: "We are happy being a solely online grocer. We don't see the need to suddenly go out and buy the estate that Tesco and Sainsbury's want to sell."