The number of UK food suppliers and farmers struggling to stay in business has soared more than 50% this year, according to new research.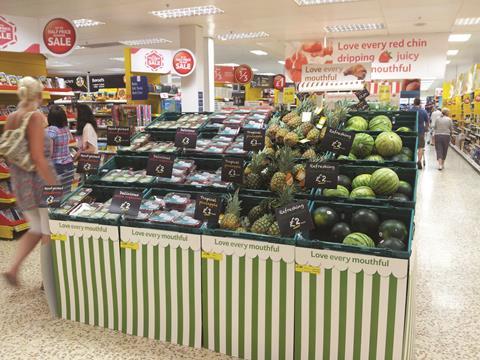 More than 1,600 suppliers in "significant" financial distress
"Savage" food retailing landscape takes toll on small and medium-sized businesses
Begbies Traynor says some suppliers and growers could plunge into administration
Insolvency specialists Begbies Traynor said 1,622 growers and suppliers were in "significant" financial distress in the three months ending June 30, up from 1,052 on the year, as the ongoing supermarket price war takes its toll.
Begbies Traynor said this was part of a "new savage landscape" in the grocery sector, which has seen suppliers bear the brunt of the turnaround plans being implemented by the UK's biggest supermarkets. The big four have all been forced to slash prices and review their SKU counts in a bid to win back customers from discounters Aldi and Lidl.
The research revealed that almost 90% of the struggling suppliers and growers were small and medium-sized business. It is feared that some of those could now plunge into administration.
Long-term issue
Begbies Traynor warned that the price slashing by food retailers was "not just a short-term pain but something that's here to stay" as those in "significant" trouble face legal claims for unpaid bills or suffer "sustained or marked deterioration" in its financial health.
Begbies Traynor partner Julie Palmer, said: "The supermarkets have managed to successfully rebase their own models by reducing product ranges, moving away from bulk-buy offers and squeezing supplier margins still further, while failing to clean up their act on late payments, taking more than a month longer than agreed terms to settle debts with suppliers."
She added: "Some are even looking into launching their own food manufacturing facilities to give them even tighter control over costs and the ability to offer still more aggressive pricing – signalling yet another nightmare scenario on the horizon for the UK food supply chain."
The fierce price war has kept grocery prices falling, with prices down 1.7% in a year, according to latest data from Kantar Worldpanel, putting added pressure on suppliers.
Supermarkets are already facing scrutiny from the Groceries Code Adjudicator (GCA) , which launched an inquiry into how Tesco delayed payments to suppliers and handled payments for shelf promotions.
The GCA has also written to Morrisons to explain why it is seeking unscheduled payments from its suppliers to help fund investments in price and more customer-facing staff.