Tesco group chief executive Philip Clarke aims to rewrite Sir Terry Leahy's retail book as he opens a "new chapter" in the grocer's story.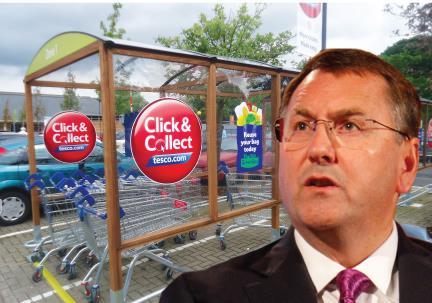 Clarke is to downsize his predecessor's stores, scrutinise his US venture, Fresh & Easy, and kick-start a new era, leading a "digital revolution" in retail.
Clarke said: "We want to start a new chapter in the history of the company."
The bullish boss said his initiatives to improve service by catapulting 8,000 extra staff into stores, improving counter services and reworking in-store signage had won custom.
He said: "We have only refreshed 10% of our stores in the first half, we have 90% to go. We are leading the renewal from the shopfloor, not from the boardroom."
Tesco unveiled a 0.1% uplift in like-for-like sales in the second quarter on Wednesday, up from a 1.5% fall in the first quarter.
Despite an 11.6% fall in first-half trading profit, Clarke said he was "encouraged" by the early signs from his £1bn turnaround plan for the UK business, unveiled in April.
Clarke said the grocer is leading the way in the market with its grocery click-and-collect offer and is the largest online grocer.
He said: "Retail will end this decade looking very different and we are leading the digital revolution."
Tesco is reducing its electricals and general merchandise offer in favour of a "food first" model.
Clarke said that Tesco will "downsize" the giant Extra stores, reduce the space devoted to non-food by up to 20% in some stores amid tough market conditions, and allocate it instead to partners such as restaurants. However, arch-rival Sainsbury's said its non-food offer is growing at a pace of around three times that of food.
Sainsbury's reported a 1.9% increase in like-for-like sales in the second quarter on Wednesday fuelled in part by its sponsorship of the Paralympics. Chief executive Justin King said: "The Olympics and Paralympics have lifted the public mood."
Fresh & easy's Future
Philip Clarke is convinced Tesco's US venture Fresh & Easy can deliver "decades of shareholder value" if the loss-making business can reach profitability and leverage scale.
The grocer has scaled back expansion plans for the 199-store business, and is focusing on existing shops to reduce losses faster, after reporting a larger than expected £74m interim loss. Clarke said: "The format and offer is in line with consumer trends in the US."
The number of profitable stores increased from 30 at the start of the year to 55 by the end of the first half.