Morrisons has vowed to re-employ all of the chain's former workers who could be left jobless if My Local plunges into administration.
The supermarket giant will hand roles to hundreds of shopfloor staff who became My Local employees when Morrisons sold its 140-store convenience business to the Greybull Capital-backed venture last year.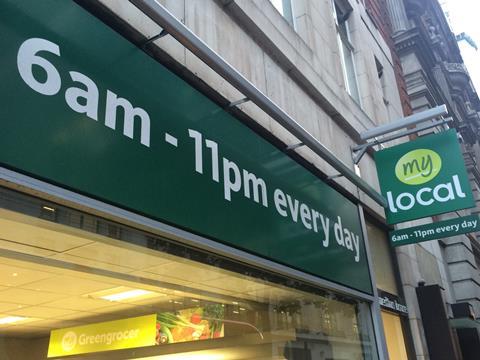 As revealed by Retail Week, My Local, which is run by convenience veteran Mike Greene, drafted in KPMG to explore strategic options earlier this month after grappling with tough trading.
And last night it emerged that the beleaguered chain's bosses have filed an intention to appoint administrators, putting 1,658 jobs at risk.
KPMG has been lined up to handle the potential administration and could be formally appointed as early as next week, Retail Week understands.
But Morrisons, which could be lumbered with a £20m liability on leases if My Local collapses, has offered an olive branch to its former staff, who worked for the grocer under the M Local banner prior to the acquisition.
It is thought that around two-thirds of My Local's 1,658 staff are former Morrisons employees.
A Morrisons spokesman said: "We are saddened and disappointed to learn that My Local is about to enter administration.
"We want to help our former colleagues who now work for My Local.
"We can therefore confirm that if no buyer is found, and stores close, we will welcome our former colleagues back to a job at Morrisons."
My Local was born from the ashes of Morrisons' failed venture into convenience in October 2015, spearheaded by Greene, an entrepreneur and star of The Secret Millionaire TV series.
But despite outlining his plans for the business in a video interview with Retail Week last year, Greene has found trading tough in the hotly contested convenience sector.
Last month it emerged that My Local was trying to sell 22 of its 140 stores, raising further questions over its performance. The retailer has already closed nine of those 140 stores, Retail Week understands.
Sources told Retail Week that a poor product mix, a tough grocery market and external factors like the introduction of the national living wage have dented performance.
Questions have also been raised over the location of the stores, which Morrisons initially acquired from collapsed retailers Blockbuster and Jessops when it entered the convenience fray in 2013.