Morrisons has stepped up its fightback against the discounters with a "game-changing" price-matching scheme that compares prices with Aldi and Lidl.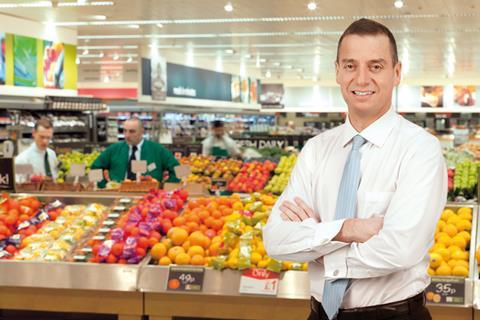 The venture comes amid fierce competition between the grocers on price as the big four struggle with the new reality of squeezed margins and promiscuous shoppers.
Morrisons is the first grocer to include Aldi and Lidl in a price comparison tool. It has done so as part of its customer card, Match & More, which launches tomorrow in 11 stores before a roll out to all shops in time for Christmas. If a comparable grocery shop at Morrisons is cheaper at either Tesco, Sainsbury's, Asda, Aldi or Lidl, customers get the difference back in points credited to their cards.
The price match covers branded goods and own label, as well as fresh produce. Aldi and Lidl products will be price matched against Morrisons' mid-tier range, rather than its entry price point range.
The ultimate guarantee
Morrisons chief executive Dalton Philips described Match & More as "the most comprehensive price match and points scheme in the UK". He said: "Because it price matches the discounters, the Match & More card will provide the ultimate guarantee about Morrisons' value for money. This is a game changer and a powerful new weapon to help get Morrisons fit for the future.
"The UK is the most sophisticated retail environment in the world and the most competitive. So this is about being competitive.
"We're not trying to be a discounter, we're just saying [to shoppers], 'you don't have to worry about price'."
The grocer is drawing on Profitero data for the scheme and Phillips said the "vast majority" of Morrisons' 20,000 SKUs will be included in the scheme. Although a Morrisons spokesman conceded that while the discounters sell some products that are not obviously easily comparable, a "rigorous" system was in place to ensure the grocer could fairly compare most items.
Morrisons will pay for the scheme out of the £300m investment in pricing it unveiled earlier this year.
Morrisons has been one of the worst hit of the big supermarkets by Aldi and Lidl's rising popularity. In March Morrisons reported huge losses and warned that earnings would be impacted in the new financial year too as it plans to invest £1bn in the business, some of it in pricing.
Market rocked by discounters
The growth of the discounters has rocked the entire market, leading to massive structural change. Aldi this week reported UK and Ireland operating profits surged nearly 60% in the last year and revealed plans to open 65 shops next year.
Last week Sainsbury's launched a marketing campaign to tell shoppers about its lower prices, which it has been investing in over the past 18 months. In February, beleaguered Tesco unveiled a £200m plan to lower prices and Asda – the only one of the big four to have increased share in recent months – has invested £300m in price this year.
Sainsbury's boss Mike Coupe said this week the trends towards shopping more locally, more often, and greater promiscuity have accelerated in the last quarter. He said: "Our convenience business and the discounters are benefiting from that market dynamic."
Sainsbury's revealed last week it was controversially removing Tesco from its Brand Match scheme and only comparing prices with Asda.
Coupe denied it was a cost-saving measure and said Sainsbury's customers overwhelmingly perceive Asda to be the cheapest grocer so its messaging would now clearly show the comparison with them.
Morrisons' Match & More card earns shoppers 10 points for every penny. Once the shopper has accrued 5,000 points, they get £5 voucher, which is valid for 52 weeks. Phillips said that compares with a month at the other grocers. Match & More will be backed by a marketing push across TV, press and billboards.
A Morrisons spokesman said that the card, the grocer's first move into loyalty, will give it valuable customer insight that its rivals have benefited from for years.
"Data is absolutely critical," he said. "We need to know our customer better. It's something we've been disadvantaged by until now."