Morrisons has launched a new premium own brand range, M Signature, which will replace its The Best line.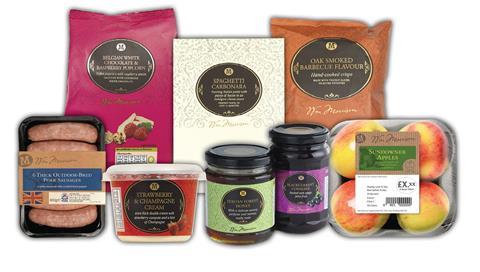 After working with chefs to develop the range, the grocer will introduce an "improved and expanded" 700 product line carrying the gold coloured signature of founder William Morrison as its logo.
The packaging is also embossed in a marked move away from its packaging for The Best.
The launch is part of the grocer's ongoing own brand review of over 10,000 lines and the new M Signature products will be brought into stores over the next four months.
Morrisons own brand director Belinda Youngs said: "The M Signature range has been developed by our in house chefs and developers, working together with our valued suppliers, to ensure we can offer our shoppers affordable and relevant high quality products.
"Our founder's signature, the ornate decoration and the modern colour pallet celebrates Morrisons passion for food as well as its commitment to quality and affordability. It completes our own brand quality tiers ensuring that overall we have something for everyone and something for every occasion."
Morrisons has also introduced 90 new and improved lines as part of a new £2 meal deal as it refreshes its food-to-go offer.